Ahead of this year's budget, the media was agog with speculation that finance minister Arun Jaitley will give companies something to cheer about on the tax front. After all, demonetisation had severely hurt business sentiment, especially in the old economy sectors that are still significantly cash-dependent.
And Jaitley did just that. Well, sort of. The finance minister brought down the income tax rate for companies with annual turnover of up to Rs 50 crore to 25% from 30%.
In his speech, Jaitley said the government will have to forego Rs 7,200 crore in tax revenue following this reduction. While that sounds impressive, what will be the real net tax impact of the move?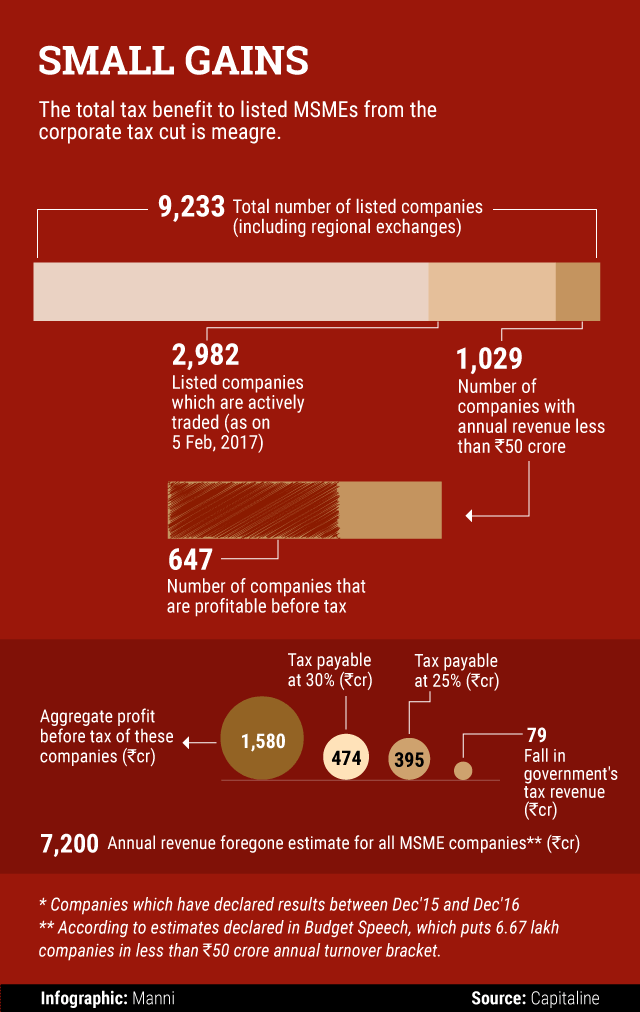 It is difficult to accurately measure the impact on unlisted companies because the data is not public. But a VCCircle analysis of the most recently available data for all listed companies that fall under this bracket show that the government will suffer a revenue loss of only about Rs 80 crore from these companies.
The analysis of data available with Capitaline shows also that only about a third of actively traded companies have annual revenue of up to Rs 50 crore each.
Also, just one in five of the actively traded firms will benefit from the tax cut, the analysis shows.
To be sure, listed companies comprise a fraction of total MSMEs in the country. In his budget speech, Jaitley had said the move will impact 6.7 lakh companies, or 96% of the firms that pay taxes.
"However, since they do not get many exemptions, they end up paying more taxes as compared to large companies," he said while giving a rationale for the move. Data for 2015-16 show that 285,000 companies making profit of less than Rs 1 crore pay an effective tax rate of 30.26% while 298 companies with a profit of above Rs 500 crore pay an effective tax rate of 25.9%, he added.
Like this report? Sign up for our daily newsletter to get our top reports.