The e-commerce industry is estimated to be worth over Rs 20,000 crore by the end of the financial year. But while analysts are gung-ho about the growth of the industry, they also warn of the potential dangers of managing 'returns' and we are not talking about profit for VC investors.
The average returns or products shipped back to suppliers by the consumers either for defective products or something which doesn't fit or suit the requirement are pegged at as high as a quarter of the total gross merchandise value booked by the firms put together.
While one aspect is the logistics cost which gets added up for each returned product, the other issue is what eventually happens to the returned product. Sources in one of the top footwear companies in the world say that the firm signs a 5 per cent returns clause with their distributors. These distributors, or small shops, selling on e-commerce websites will not take back more than 5 per cent of the goods returned.
This means Flipkart, Amazon or Snapdeal will have to take back inventory for these returned items and will later have to auction the products at a discounted rate. The returns are highest in apparel, mobile and other electronics categories.
VCCircle spoke to company insiders and industry watchers to get a feel of the data which are not spoken about but add to the reason why e-com firms are losing money. While the companies declined to confirm or deny the numbers, one source indicated Amazon India, for instance, has more returns than its parent.
The GMV and returns data are the projected figure for the year ending March 31, 2015, based on the numbers in the first half of the current year.
Here is how the returns stack up for the top three e-com marketplaces: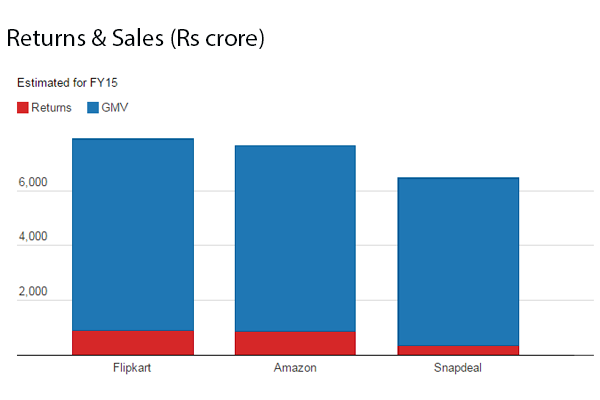 (Edited by Joby Puthuparampil Johnson)