Law firms continue to be the better pay masters but more and more lawyers are choosing to join corporate houses as in-house counsel for better work-life balance and opportunities to be part of strategic decision-making at companies.
Increasing pressure on senior private practice lawyers, such as partners, to focus on business development is another factor favouring this trend, according to industry executives.
"As an in-house counsel one aligns tightly with the business and is able to ascertain the commercial impact of issues from the ground up," said Nandini Mehta, general counsel at real estate portal Housing.com. "This role allows you to fill gaps in any business decisions that aren't assigned to or owned by other people in the organisation. There is also a greater ownership of outcomes and an ability to witness the results of your work," added Mehta, who was partner at law firm J Sagar Associates before moving to the SoftBank-backed startup last year.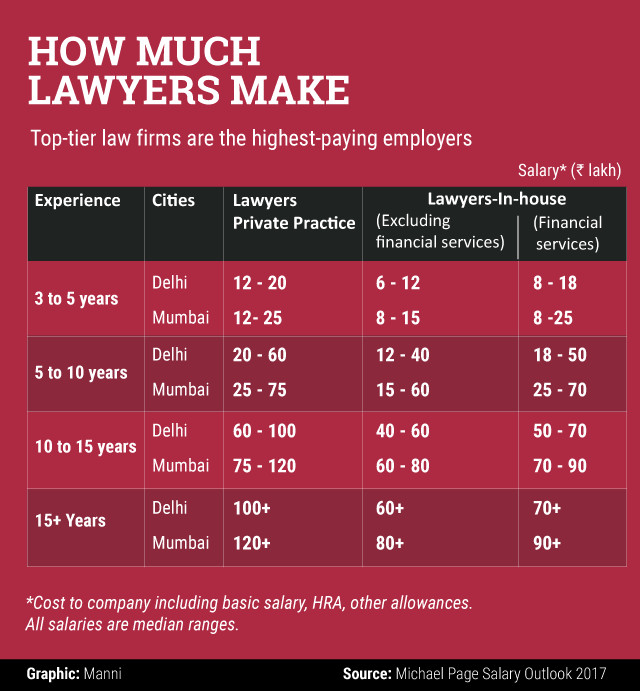 Mehta is one of a many people who have left a law firm in recent times to join a corporate house. In August, for instance, Ipsita Dutta quit as partner at Cyril Amarchand Mangaldas to join financial services powerhouse Morgan Stanley as executive director in its legal department.
Mohit Abraham, a former partner at Khaitan & Co, became the first general counsel for the local unit of US cab-hailing firm Uber Technologies Inc in June. Himanshu Dodeja is another example; he quit Cyril Amarchand Mangaldas as partner to move to private equity major Blackstone as its India general counsel.
Anshul Lodha, director at recruitment consultancy Michael Page India, said one of the reasons for this trend is the reduction in budget for the legal department for activities such as commercial negotiations and arbitrations, which will impact the business of law firms.
"In 2017, we are expecting salary hikes of around 25% to 35% for job switch and around 10% to 15% increments within companies," he said.
According to Michael Page's salary and employment outlook survey for 2017, in-house legal teams, being smaller in size, tend to hire more middle- to senior-level legal professionals.
Karl Fernandes, vice president and head of in-house practice group at legal and governance executive search firm Vahura, said moving as an in-house counsel is the next career goal for many lawyers where they get an opportunity to have a direct interaction with clients.
According to Fernandes, average increments for in-house counsels range from 10% to 15% for junior to mid-level hires. Specialist hires like those for mergers and acquisitions practice, litigation and funds are paid differently. Compensation for general counsels is also treated differently depending on the skill, scale, size and the needs of the company.
"They also get a chance to be strategic decision makers to the business or organisation rather than just giving opinions. Working directly with CXOs, management and company boards gives them a thrill as well," said Fernandes.
The Michael Page report also said that sectors such as financial services and e-commerce are offering more competitive salaries to attract top talent compared with infrastructure, manufacturing, energy and other core sectors. Top-tier law firms are reported to be the highest-paying employers. Multinational firms offer higher salaries to their in-house legal teams compared with local firms.
On a different note, Abhijit Joshi, managing partner at law firm Veritas Legal, feels that growth of law schools over the last decade has been exponential, and law as a profession has become increasingly popular. "If one were to view the demand-supply situation in the medium to long term, then barring a watershed event or entry of foreign firms, the supply of lawyers should increase substantially. In such an event if the work does not increase substantially the trend of rising salaries and packages will be arrested as the sheer economics will be unsustainable," Joshi added.