The exclusive club of the highest-paid women executives in India is dominated by promoters and their relatives contrasting peers on the other side of gender divide, according to a study of the best paid in India Inc by VCCircle.
Nine out of the top-10 best-paid women executives represent the owners of those firms with HDFC veteran Renu Karnad the sole professional in the top chart.
The overall chart continues to be led by Sun TV Network's Kavery Kalanithi who for several years has been among the highest-paid persons in the country along with her husband Kalanithi Maran. She continues to be the only woman on the list of highest-paid corporate executives, irrespective of gender, compiled by VCCircle. https://www.vccircle.com/check-out-india-s-best-paid-corporate-execs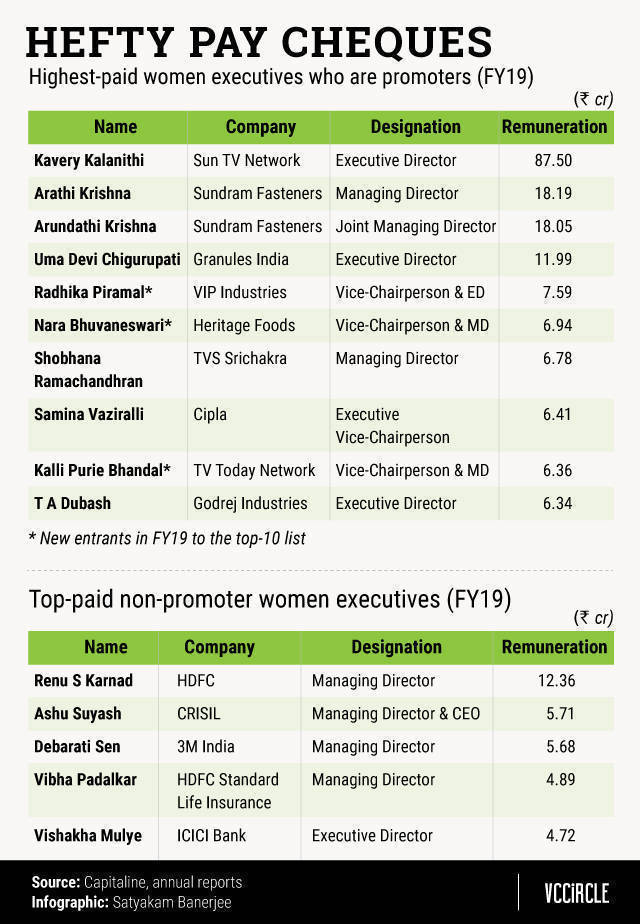 Three members of the TVS family—sisters Arathi Krishna and Arundathi Krishna, and Shobhana Ramachandran—feature among the top 10.
Arathi and Arundathi—daughters of Sundram Fasteners chairman and managing director Suresh Krishna—are managing director and joint-managing director, respectively, at the automotive and engineering parts maker.
They occupied the second and the third spots on the list withdrawing Rs 18 crore each after receiving an average hike of close to 40% from their previous year's remuneration.
Ramachandran is managing director at tyre maker TVS Srichakra
The median remuneration of India's 10 highest-paid women promoters increased by more than 35%, a VCCircle analysis from the data collated from Capitaline on the highest-paid women directors shows.
But the pay freeze by Kavery Kalanithi has moderated the aggregate rise in the remuneration of the top 10 to a more palatable 14%.
Median is an alternative way to arrive at an average that filters out data outliers or extremes.
There are three entrants to the list of highly paid women executives: Radhika Piramal of luggage products maker VIP; N Bhuvaneswari, VC & MD of Heritage Foods, who also happens to be the wife of former Andhra chief minister N Chandrababu Naidu; and Kalli Purie Bhandal of TV Today Network.
Some names missing this year were Deepali V Mhaiskar of IRB Infra Developers, Vinita Gupta of Lupin and Nisaba Godrej of Godrej Consumer.
Gupta saw her overall remuneration decline due to reversal of incentive.
Indeed, this is not a complete list as it captures only those who are remunerated by listed companies. Several private firms pay their women employees far more than this, especially multinational companies and in particular those in the financial services space.
For instance, Shweta Jalan of Advent was paid over Rs 10 crore by the Indian advisory arm of the global private equity firm, according to regulatory filings.
In private equity firms in particular, compensation can go sky-high with 'carry' which is like a variable pay that depends on the investment managers generating gains from their investments beyond a threshold.
Interestingly, the gender divide is showing in promoters vs professionals as a good number of the highest-paid men are professionals thanks to stock options granted in the past. But for women this is still tilted towards promoters.
HDFC's Renu Sud Karnad emerged as the highest-paid non-promoter again thanks to ESOPs worth Rs 6.92 crore or nearly $1 million.
Crisil's Ashu Suyash, despite taking a 4% haircut on her pay packet, occupied the second position on the list. Debarati Sen of 3M India, Vibha Padalkar of HDFC Life and Vishakha Mulye of ICICI Bank also figured among the women professionals with high pay packets.