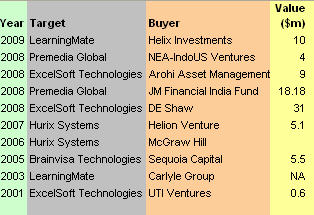 Mumbai based private equity firm Helix Investments has invested under $10 million in LearningMate Solutions Pvt Ltd, a Mumbai based provider of e-learning education solutions. LearningMate's services include content development, learning application, and learning management systems solutions. The company has customers like McGraw Hill Education, Pearson, Thomson, Penn Foster, W.H. Freeman, Worth Publishers, and Oxford University Press. It has offices in the US and the UK, besides India.
LearningMate, founded in 2001 by Samudra Sen and Atul Sabnis, was a part of Educomp Solutions Ltd. The company got hived off as a separate entity in 2003 and Educomp was bought out by Carlyle Group, the private equity investor. Carlyle later exited the company. Samudra Sen and Atul Sabnis had earlier helped establish and manage the e-learning content development operation for Aptech Ltd, which later came to be known as Mentorix.
The equity infusion by Helix Investments will be used to expand in the US and India, Samudra Sen, CEO, LearningMate, told VCCircle. The company currently employs 200 people.
LearningMate is in a space which is fast growing, and has attracted private equity interest. In the US, there is a move away from traditional print based text books to online and digital courseware, which is also supported by huge government funding. The PE funds are betting on this transition, which, according to sources in the private equity industry, is a market worth $1 billion a year in the US alone. Besides, the space is growing at 40% a year. Also the similar companies in the US are trading at a PE multiple of 25-30 times in Nasdaq.
In fact, e-learning space got into prominence when Mysore based e-learning solutions provider Excelsoft Technologies provided its earlier backer UTI Ventures 50 times returns on its original investment, which is believed to be the highest multiple of returns by an Indian fund. In April 2008, private equity fund DE Shaw bought out the entire 35.5% stake of UTI Ventures in Excelsoft for $31 million. UTI Venture's original investment (in 2000) in the company was only Rs 2.5 crore or $600,000. In September 2008, ExcelSoft raised about $10 million by diluting 10% stake to Singapore based Arohi Asset Management.
The other companies in the space are Hurix Systems, backed by Helion Venture Partners, and Brainvisa Technologies, backed by Sequoia Capital India. The US and India-based e-publishing firm Pre-Media Global USA Inc (PMG) is also entering e-learning. The company raised $18 million from JM Financial India Fund, a joint venture between JM Financial and Old Lane Fund (currently owned by Citigroup), in January 2008. In August the same year, Pre-Media raised another $4 million from NEA Indo-US Ventures.
For Helix Investments, this is the second investment in the education space. In August 2007, the private equity firm invested $12 million in Mahesh Tutorials, a Mumbai based test prep education company. Helix is an India-focused investment fund backed by members of the Cullman and Bloomingdale families of New York.
Education - either as a provider of technology and content solutions to the industry or as a direct provider of education to the consumers - has emerged as one of the hottest investment segments for the Indian private equity firms. Recently, Tutorvista raised $19 million in its third round of funding from the publishing giant Pearson Group and existing investors Lightspeed Venture Partners and Manipal Education and Medical Group (MEMG). TutorVista provides online tuitions to students in markets like the US and the UK, besides India, while it also provides curriculum support and technology solutions to schools in India.
The other segments of education that received funding are test prep (Career Launcher Pvt Ltd and IMS), pre-school (Tree House Education), spoken English training (Veta and Speakwell), and vocational training (Global Talent Track).