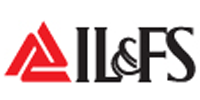 Wall Street giant Goldman Sachs has exited its investment in IL&FS Transportation Networks Ltd with marginal gains. The private equity arm of the bank sold the last chunk of its stake on Thursday for Rs 27.62 crore on the National Stock Exchange.
Through GS Strategic Investments Ltd, the firm sold 1.33 per cent stake or around 2.6 million share of the company for Rs 107.95. The shares were picked up by Norway's sovereign wealth fund, Government Pension Fund Global.
Scrip of IL&FS Transportation reacted positively, shooting up over 13 per cent in early trade. Shares were trading at Rs 117.45, up by 8.8 per cent at 10:19 am on Friday.
Goldman Sachs, which held 4.41 per cent stake in IL&FS Transportation at the time of its public issue, started exiting its investment in the company at the start of 2012. It sold over 2.6 per cent stake in the company between January to September 2012, bringing its stake to 1.84 per cent during the period.
During this period IL&FS Transportation shares were trading between Rs 160 and Rs 214, which would have given it between Rs 80 crore and Rs 110 crore approximately. This would have given Goldman Sachs back its principal investment amount in the company. The firm invested $20.5 million or Rs 83 crore in the company at Rs 100 per unit in March 2007.
The rest of the sale has been done in small blocks till the stake sold on Thursday, which was almost at par to Goldman Sachs investment price. This would indicate that the PE firm could have made 1.4x-1.5x on its six-and-a-half-year-old investment.
Other private equity investors IL&FS Transportation include Standard Chartered IL&FS Asia Infrastructure Growth Fund (3.15 per cent) and Bessemer Venture Partners (2.13 per cent). Trinity Capital was also a shareholder but exited during the IPO.
IL&FS Transportation, a subsidiary of IL&FS which develops and manages toll roads, was listed at Rs 258 in March 2010.
IL&FS Transportation reported a 18.5 per cent growth in net sales to Rs 6,645 crore with a 4.6 per cent increase in net profit to Rs 520 crore in FY13. For Q1FY14 it reported 8.1 per cent fall in net sales to Rs 1451 crore with profit after tax slipping 2.4 per cent to Rs 130.6 crore compared with Q1FY13.
(Edited by Joby Puthuparampil Johnson)