Global venture capital funding for clean energy startups jumped to $12.3 billion last year, up from $1.9 billion in 2019, propelled by investment in battery technology and new government subsidy schemes in the United States and Europe, new data shows.
An analysis from consultants Oliver Wyman based on data from Crunchbase showed that investors in North America led the way in recent clean energy investments, providing 57% of last year's total, with European players behind on $3.5 billion.
Chinese venture capital funding reached $1.2 billion thanks to expansion of renewables.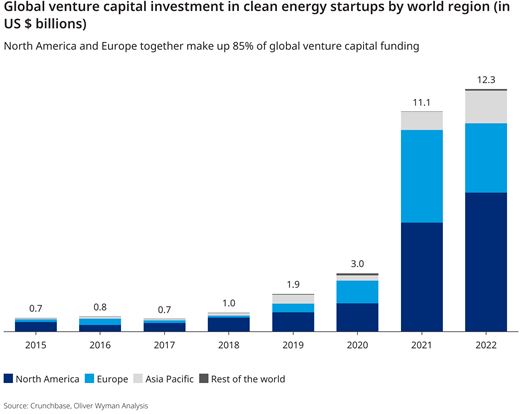 Investors globally have been racing to fund more climate-friendly technologies as the world tries to shift towards a lower-carbon economy. The United States' Inflation Reduction Act and the European Union's Net Zero Industry Act, which offer public subsidies for green industries, look set to turbocharge that interest, industry experts predict.
Battery technology, storage solutions and renewable technology made up two-thirds of last year's global venture capital investment, according to the analysis.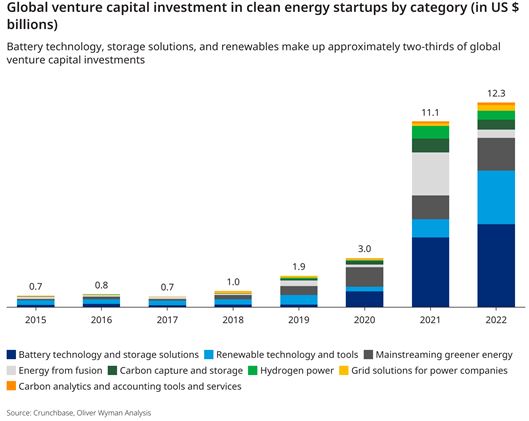 European funding fell in 2022 versus the previous year, which Oliver Wyman linked to recent market volatility, but it said the region's need for new clean energy technology had grown following the war in Ukraine.
Venture capital investment into Swedish startups fell, but the country remained the leader in Europe last year, ahead of Germany, the UK and France.
"Despite recent market turmoil, clean tech funding in Europe remains bright," said Francois Austin, Oliver Wyman's Global Head of Energy and Natural Resources.
"It has progressed significantly in the last five years and we're now seeing large scale private equity and infrastructure funds putting their weight behind this sector."