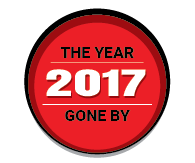 Overall angel and seed-stage investments might have fallen this year but that didn't deter some investors from going against the tide.
The angel investors who bucked the slowdown trend this year include Sandeep Tandon, co-founder of mobile wallet FreeCharge, and Senapathy 'Kris' Gopalakrishnan, co-founder of software services giant Infosys Ltd.
Tandon and Gopalakrishnan emerged as the top angel investors by number of deals in 2017. The list of the most active angels was put together based on disclosed deals collated by VCCEdge, the data research platform of VCCircle, and after reaching out to the investors. However, many angel investments are usually not disclosed, so the list may not capture that data.
Tandon, who is managing director at Tandon Technology Ventures, invested in 23 startups this year, including in online lending platform ZipLoan and fashion and store discovery platform Fashalot.
Gopalakrishnan, who came second on the list, made 20 investments. "Personally, I am bullish on deep-tech and artificial intelligence. More of our research has to become startup ideas. From a vertical perspective, I am bullish on healthcare," he told VCCircle.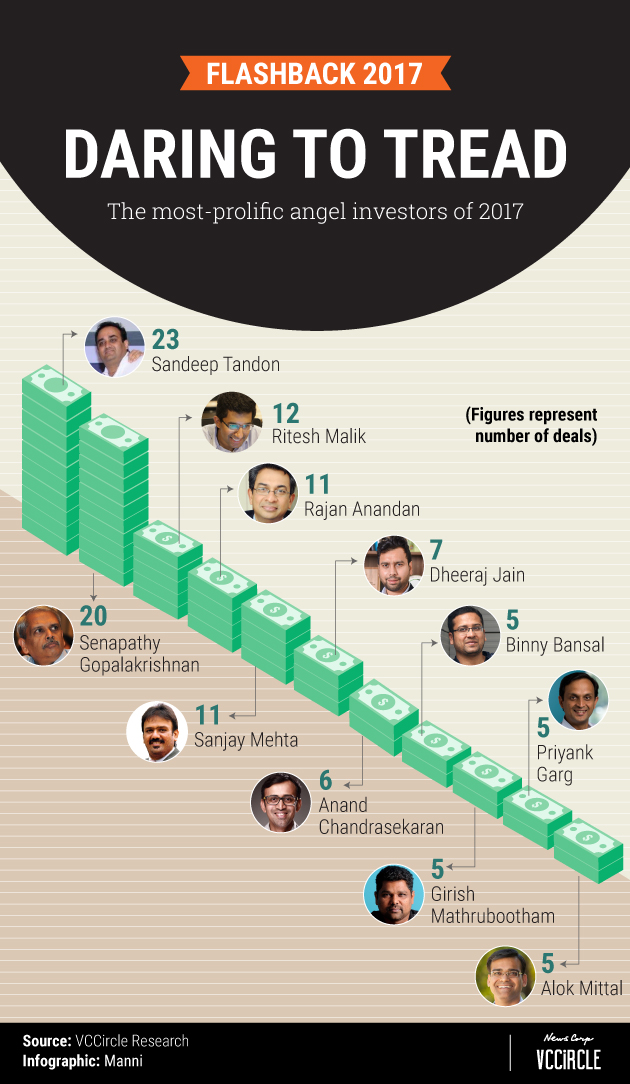 This year's list has some notable absentees. These include Tata Sons chairman emeritus Ratan Tata and founder of payments firm FreeCharge Kunal Shah. Shah had made 19 angel investments last year while Tata had invested in 17 startups.
*Dheeraj Jain, director at London-based Redcliffe Capital, who topped last year's list of angel investors, backed 7 startups in this calendar year. Some of his investments this year included fashion resale portal Coutloot, toilet hygiene brand PeeSafe, grocery startup Supr Daily, online safety product retailer SafetyKart, security solutions firm Asadel Technologies, blockchain-supported private markets investment firm Zenprivex, and iced tea brand Brewhouse.
"Our focus in 2017 has been to build depth in the existing portfolio, support them in subsequent rounds and closely monitor their growth. Our 7 investments are all made by myself directly and no interference of any angel network group," Jain said in an email interaction with VCCircle. He added that while most investors wrote small cheques, he made value investments.
Besides these 7, Jain also made five follow-on investments in workspace aggregator Qdesq, online wedding planner Shaadisaga, campsite aggregator Deyor Camps, packaged food startup Yumlane, and ed-tech startup Mappr.
Former Snapdeal product head Anand Chandrasekaran made six investments this year, compared with 20 last year.
Though 2017 was subdued, angel investments will pick up in 2018, said TV Mohandas Pai, former chief financial officer and HR head at Infosys and now an active investor. "There is heightened activity beginning to happen now. A new wave of companies in artificial intelligence, augmented and virtual reality, and SME financing are coming up," he added.
According to Google India managing director Rajan Anandan, the slowdown in angel investments merely reflects the cyclical nature of investing. He believes that valuations are more reasonable and companies are making progress with a lot less money and are targeting new ideas in new areas.
Anandan was also one of the top angel investors this year. While he invested in nine companies in 2016, this year he made 11 investments. "B2B (business-to-business) was back in a big way (in 2017). One theme that is always consistent for me is B2B. More than half my investments were into B2B companies," he said in an email interaction with VCCircle.
Anandan, an active investor in early-stage technology companies, has been putting his money into ventures across India, the US and Sri Lanka. In India, he has backed over 45 technology startups. He is also the co-founder of Blue Ocean Ventures, the first seed fund in Sri Lanka.
Another investor making a splash in the startup ecosystem is Ritesh Malik, founder of co-working startup Innov8. He made 12 investments this year, including Campsite aggregator Deyor Camps, online water pump seller PumpKart, and viral content platform WittyFeed.
Malik is also the founder and CEO of Guerilla Ventures, an angel fund founded in 2013, with a focus on hardware companies.
Sanjay Mehta, a serial entrepreneur-turned-investor, has made 11 investments this year. Hygiene and wellness brand PeeBuddy, matchmaking app Aisle, AI-powered anti-fraud solutions startup ThirdWatch Data, home automation startup Intuit Things, blockchain firm Block.one, and cold chain monitoring startup TagBox are some investments he made in 2017.
Funding into startups began slowing down last year and the trend continued this year. A VCCircle analysis conducted in July showed that the total number of angel and early-stage deals in January-June 2017 fell to 217 from 368 in the same period last year.
For the full year, the number of angel deals in 2017 slumped to 433 from 876 in 2016, shows provisional VCCEdge data. Total deal value fell to $1.2 billion in 2017 from $1.6 billion last year.
In November, a report released by industry body Nasscom echoed the slowdown trend in the startup ecosystem. It said that investors had shifted their focus away from seed-stage ventures to more mature startups and added that the number of tech startups setting up shop in India likely fell 29% in 2017.
*The article has been updated to include angel investments made by Dheeraj Jain this year.