Funding into the health-tech sector stabilised in 2017 from the over-exuberance seen in 2015 and slowdown witnessed in 2016. Investors wrote larger cheques this year, which accounted for the spike in investment value. Another key highlight of the year is the role of artificial intelligence in healthcare, with a number of AI-powered health-tech startups raising funds.
Investor sentiment into health-tech picked up in 2017, which saw inflows worth $162 million being made into the sector versus $84 million in 2016, provisional data from VCCEdge, the research platform of News Corp VCCircle, shows. In contrast, investor interest peaked in 2015 with $259 million being poured into the sector, while in 2014, $122 million investments were made, the data revealed.
The top health-tech companies that secured the most funds this year were online pharmacies.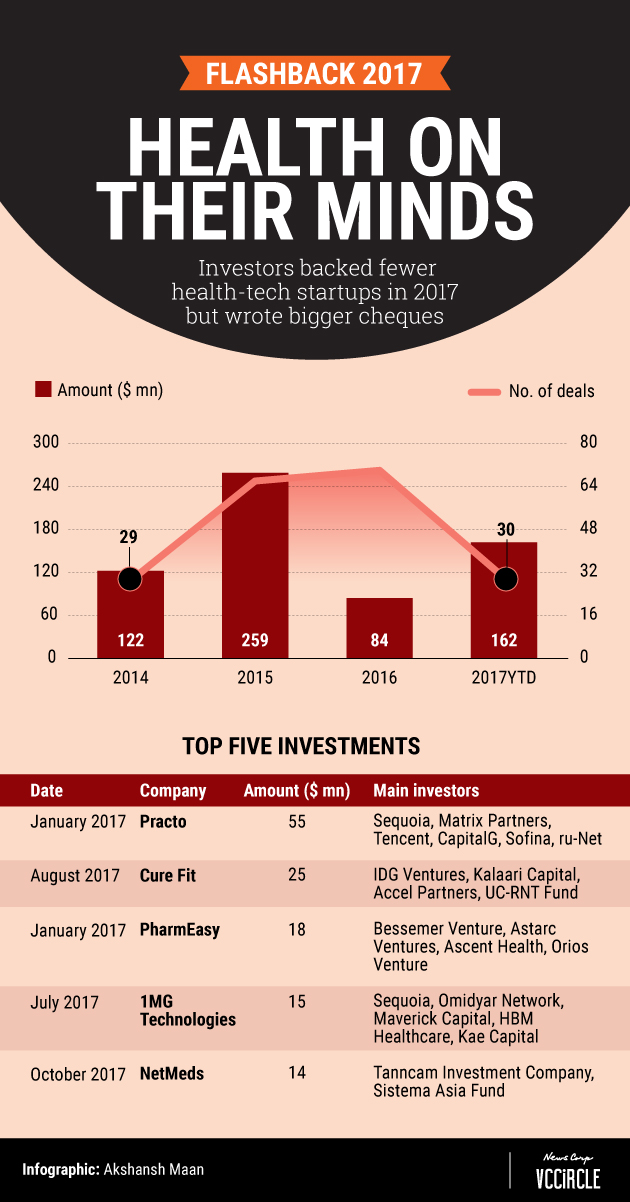 Digital healthcare platform Practo received the bulk of the investment this year. The doctor appointment site secured $55 million in its Series D round led by existing investor China's Tencent in January. The Bengaluru-based company, which had previously acquired five startups, has been expanding overseas even as it pruned its staff strength in India. The company is looking to sell medical insurance and medical devices on its platform as it looks for avenues for monetisation apart from its medical records platform for doctors.
Another notable bet this year was health and fitness startup Curefit, founded by Myntra co-founder Mukesh Bansal and former Flipkart executive Ankit Nagori. In August, it raised $25 million (Rs 160 crore) in a Series B round from existing investors Accel Partners, IDG Ventures, Kalaari Capital and UC-RNT Fund. Till date, it has acquired four companies across gym chains, yoga centres and healthy food companies. Three of those acquisitions took place in 2017.
Other startups that secured large cheques include online drug delivery platform PharmEasy, online drug marketplace 1mg, and online pharmacy NetMeds.
In 2016, online pharmacies came under the scanner of the Indian drug regulator. The Drug Controller General of India had issued a circular in January last year stating that sale of drugs over the Internet goes against the provisions of Drugs and Cosmetics Rules, 1945. It highlighted the need frame laws to regulate the nascent online pharmacy industry in the country. The e-pharmacies at that time said they welcomed the government's move to create transparency. However, even after two years, there does not seem to be any clarity. In a an interaction with VCCircle in August this year, Prashant Tandon, founder of online pharmacy 1mg said that the regulations governing these firms fall under multiple ministries and hence clarity is of utmost importance. "We are governed by the IT Act for marketplaces, the Drugs and Cosmetics Act for pharmacy operations, and others. We are asking for clarity so that the drug inspector doesn't get to say that he is concerned with only one part of the law. Most of the issues crop up because the local level government does not have much time to figure out all the Acts," he explained.
He also wants the law to be uniformly applied to both online and offline players and has called for a central registry of e-pharmacies operating in India, in order to differentiate the illegal players from the legal ones.
Besides e-pharmacies, healthcare startups employing AI also attracted investor attention, including medical-technology startup SigTuple, which raised $5.8 million (around Rs 38.8 crore) in February 2017 in a Series A round led by Accel Partners. The startup conducts medical diagnoses using AI and has tied up with medical institutions for data analysis.
In April, breast cancer screening startup Niramai Health Analytix secured seed funding from pi Ventures, Axilor Ventures and a number of other investors. Nirmai, which stands for non-invasive risk assessment with machine learning, uses big data analytics and artificial intelligence over thermal images for the early detection of breast cancer.
In the same month, digital wallet firm Paytm invested in health-tech startup QorQL. The Noida-based firm connects doctors with patients by using AI and big data.
In May, health content startup HealthMir raised seed funding from angel investor and insurance industry veteran Nimit Panigrahi. Through an app, HealthMir provides patients information on health via videos. Users can also discuss their symptoms with a chatbot and can also consult with doctors and hospitals listed on the platform.
Complications still abound in health-tech
Though the healthcare sector shows a lot of promise with tech-oriented solutions already being implemented, there are still many issues that need to be addressed, say investors.
India needs more physical infrastructure like labs and hospitals and the country also suffers from a huge shortage of doctors and diagnostic technicians, said Mohan Kumar, executive director at Norwest Venture Partners. "You only need to apply the knowledge and the adoption is much easier in healthcare. As sector partners, hospitals and doctors have been open to applying the latest technology. Considering the scale of requirement, this is still an under-penetrated area and the technology used is old, and the upgradation is easier to do," he explained.
Unlike in education, technology-led improvements in healthcare are more objective, robust and accurate, he added. The algorithms can identify discrepancies faster. Doctors may unknowingly be biased in their observations of symptoms, which might be limited to two or three diseases. They could potentially miss catching the early symptoms of other diseases, say entrepreneurs.
Healthcare in the west has been undergoing digitisation for years, while in India, it was initiated mostly by startups. Hence, the margins are higher in the west. The adoption of insurance and awareness for prevention is also higher, so the business is tougher in India but the opportunities are in the country as more, Anoop Polavaram, operating partner with Aspada Investment Advisors, explained. He adds that India is years behind in medical products and devices and startups should focus on these sectors to make a meaningful impact.
It will take another 5-7 years before some of these startups become the next unicorn from India.