Connaught Place in Delhi is the world's fifth most expensive market with occupancy cost of roughly $157 per sq ft per annum, according to real estate research firm CBRE's semi-annual Global Prime Office Occupancy Costs survey.
The survey takes into account occupancy costs for prime office spaces in 127 cities worldwide and this edition provides data on office rents and occupancy costs as of March 31, 2015. 
Occupancy cost reflects rent, plus local taxes and service charges.
Other Indian locations to feature on the top 50 most expensive markets include Mumbai's Bandra–Kurla Complex (BKC), at15th position and Nariman Point, at the 30th position. 
"Although Delhi's Connaught Place moved up one spot in the rankings, due to the rupee depreciation, occupancy costs in this market remained largely stable due to a positive market sentiment. Mumbai's BKC and Nariman Point showed a nominal decrease of less than 1 per cent over a 12-month period while y-o-y office occupancy costs rose by about 2.2 per cent in the Bangalore CBD, broadly in line with global inflation," said Anshuman Magazine, chairman and managing director, CBRE South Asia Pvt. Ltd.
London's West End has maintained its dominance as world's costliest prime office market, while on a broader level Asian markets continued to have strong hold with four out of the top five locations are from the Asian region, the report said.
The occupancy cost for London West End's stood at $267 per sq ft per year to top the chart while Hong Kong Central followed at the second spot with prime occupancy costs of $254 per sq ft.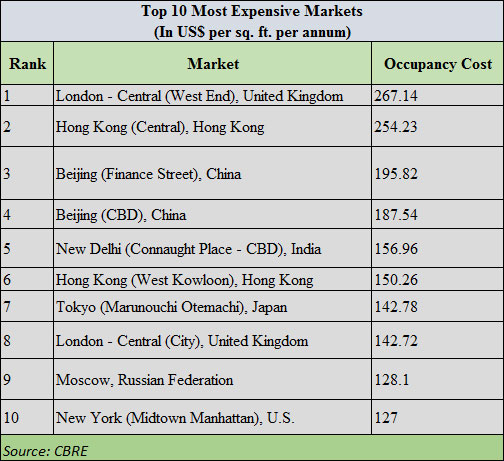 The report also notes India, Taiwan, New Zealand, the Philippines and Japan are showing stronger hiring intentions among employers while corporate hiring activity remained muted in other locations. India and the Philippines have continued to benefit from growing IT back office services looking for operational and costs efficiency, it said. 
"Occupier caution has declined and corporate confidence has been on the rise and this confidence is starting to translate into a degree of expansionary momentum," said Richard Barkham, global chief economist, CBRE. 
"At the same time, many office markets are increasingly short of the quality, modern, flexible and highly accessible or CBD-located office buildings which corporations are seeking to execute workplace strategies that will drive productivity and attract or retain talent," he added.
As for take up of office space in India, the year started on a slow note with office space absorption of around 5 million sq ft in Q1 2015, registering a decline of 22 per cent year-on-year and 50 per cent quarter-on-quarter, according to Q1 Office Market View report of the same agency. 
It said corporates were still strategising their real estate plans for the rest of the year and therefore fewer transaction decisions were implemented during the quarter.