Delhi-NCR emerged as the top destination in terms of overall value of deals struck last year, according to the VCCEdge Annual Deal Report 2018.
VCCEdge is the data and research platform of News Corp VCCircle.
Companies based out of Delhi-NCR topped the list for deal value with private equity transactions accounting for $6.87 billion and merger & acquisition deals worth $24.56 billion.
PE transactions include dealmaking across private equity, venture capital, angel/seed, pre-initial public offering (IPO) and public equity.
Bengaluru, in second spot, recorded a PE deal value of $4 billion in 2018.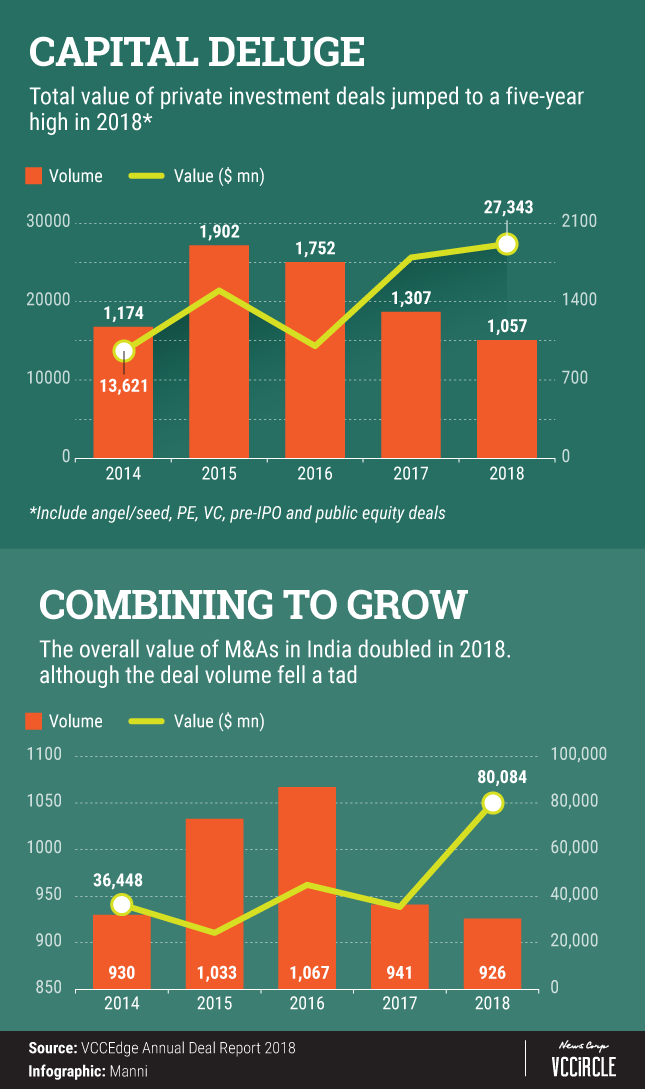 VCCircle had previously reported that overall PE deal activity remained flat in 2018. While the value of PE transactions increased by 7% to $27.3 billion, there were 65 deals in the range of $100 million and more which accounted for $20.57 billion, shows VCCEdge data.
Information Technology, which includes online businesses and software companies, registered the most deal activity among sectors. The number of deals stood at 489 amounting to $8.7 billion in 2018, against 645 deals with $5.81 billion in the previous calendar year.
The value of PE exits increased to $15.09 billion in 2018 from $12.47 billion in 2017, according to the report.
The total value of mergers and acquisitions in India hit a record high in 2018, buoyed by big-ticket transactions including the mega takeover of online retailer Flipkart and a bunch of other domestic and outbound deals.
The overall value of M&As more than doubled to $80 billion in 2018 from $35.4 billion in the year before. However, the deal volume dropped to 926 from 941 last year.
There were 64 M&A deals in the range of $100 million and more which accounted for $70.4 billion.
US retail giant Walmart's acquisition of a 77% stake in Flipkart for $16 billion emerged as the biggest-ever inbound deal in India. The deal provided bumper exits to some early venture capital investors in Flipkart.