Capital expenditure is key to any budgetary exercise. After all, the quantum of capex spent, both by the government, as well as the corporate sector, determines the extent to which new assets will be created in an economy.
In his budget speech last year, finance minister Arun Jaitley had said he was upping the government's capital spending by as much as 25.4% by setting aside a little over Rs 3 lakh crore for capital expenditure. However, in real terms, the figure was a shade over 10%, if one compares it to the revised estimates of the previous year's budget.
Yet, the possible sleight of hand at math notwithstanding, 2016-17 was an exceptional year for public expenditure, as the government actually ended up spending more than it had budgeted for, something that had rarely happened earlier.
While the Centre had budgeted Rs 2.47 lakh crore for the fiscal year, it ended up spending Rs 2.79 lakh crore, or nearly Rs 33,000 crore more. In the previous years, typically, the government had spent less than what it had budgeted for.
Since 2018 is a pre-election year, it would be expedient upon the government to increase public spending on public infrastructure, including roads and highways. But where will the bulk of the money be spent on?
While that may be hard to prejudge, a look at last year's budget documents might hold some clue as to what could be the government's areas of focus.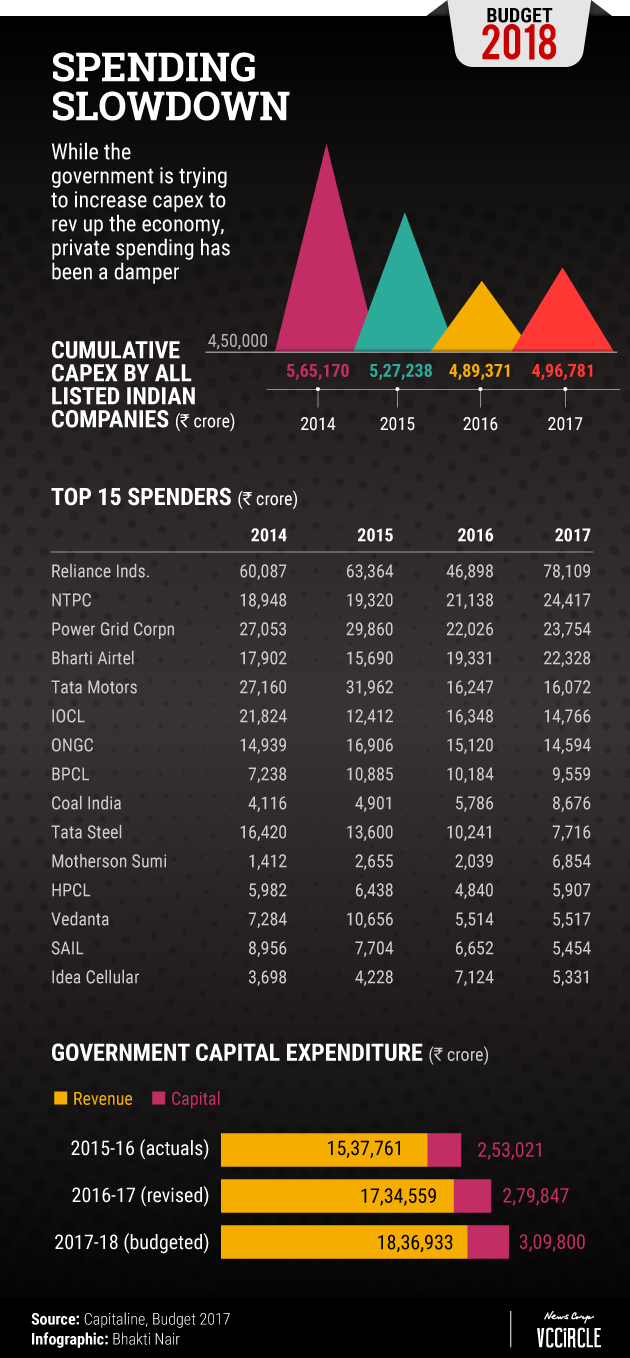 A detailed look at the breakdown of the ministry-wise capex spends shows that the highways ministry, which had a budget of just under Rs 17,500 crore, actually ended up spending in excess of Rs 41,000 crore, or more than double the budgeted amount.
This was, however, more than the Centre's revenue expenditure, which was just at Rs 11,343 crore, or less than one-thirds of the Rs 40,500 crore Jaitley had set aside for the purpose. Another sleight of hand, perhaps, but the capex sure swelled.
This year, too, the roads sector could again be in focus. However, analysts at ratings agency India Ratings and Research (Ind-Ra) believe that implementing marquee highway projects, such as the Bharatmala Pariyojana, could be challenging for the government "due to their ambitious expectations of private participation through public-private partnership of about Rs 1.06 lakh crore in a scenario of continued stretched balance sheets of many infrastructure developers".
Under the Bharatmala Pariyojana, the government plans to build nearly 83,700 km of roads and highways across the country at an estimated cost of Rs 5.35 lakh crore.
On the corporate front, Ind-Ra analysts feel that the top 200 big spenders, including the biggest listed and unlisted companies, may up their capex spends by 5-8%, annually, between 2017-18 and 2019-20, although mostly in the form of maintenance capex.
This increase is, however, unlikely to be a universal trend across corporates. In-Ra says that while non-stressed corporates are likely to be contributors to capex beyond 2019-20, capex spending by stressed corporates is likely to be muted. In 2016-17, while the former saw a 14% rise in capex on a year-on-year basis, debt-laden companies witnessed a fall of about 36% in capital expenses.
About 75 of the 200 companies are classified as stressed, given their interest coverage ratio of less than 1.5 times. Interest coverage ratio is used to determine how easily a company can pay interests on its outstanding debt.
"Ind-Ra believes stressed corporates have a limited ability to undertake any meaningful capex activity over the next five to seven years, owing to weak credit metrics as indicated by interest cover of 0.5 times and net leverage of 17.8 times, along with an 8% decline in EBITDA (earnings before income tax, depreciation and amortization)," the ratings agency said in a January 2018 report.
Data on the capex trends of India's listed companies also show that their capital spends have actually come down on a cumulative basis since 2013-14, when it was at Rs 5.65 lakh crore. During 2014-15 and 2015-16, the figures were at Rs 5.27 lakh crore and Rs 4.89 lakh crore, respectively. However, last fiscal year, it edged up, but only marginally to Rs 4.96 lakh crore.
Given that not all big companies report capital expenditure figures in their annual reports, VCCircle added three balance sheet components – spends on purchase of fixed assets and capital work in progress besides acquisition of companies – to arrive at the figure. These figures were sourced from corporate database Capitaline.
Although the government's Rs 2.11 lakh crore bank recapitalisation plan will inject the required quantum of capital into state-owned banks to cover for any provisioning shortfalls for stressed assets, and support modest growth in advances, besides sorting out issues related to the build-up of non-performing assets, it is unlikely to "support any significant investment demand by corporates", say analysts.