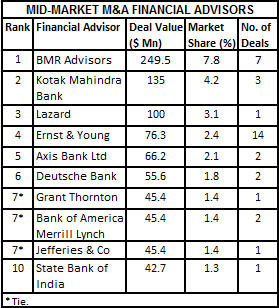 BMR Advisors has topped the mid-market (deal sizes below $100 million) mergers & acquisitions (M&A) league tables for this calender year followed by Kotak Mahindra Bank and Lazard, shows a report by Thomson Reuters. BMR has advised seven transactions with an aggregate value of $250 million, and is trailed by Kotak with three transaction worth $135 million and Lazard with one transaction of $100 million. Ernst & Young, even though it advised on the most number of deals at 14, the value of these transactions stood at $76.3 million giving it the fourth rank.
The total number of mid-market M&As, including those without advisors, stood at 783 deals with a total value of $3,186 million. Some of the major deals in the Indian mid-market space were Sodexho's acquisition of Radhakrishna Hospitality Services and the merger of Burgmann Industries and Eagle Industry's India operations, both of which were advised by BMR.
Total mid-market M&As in Asia excluding Japan stood at 6,535 with a value of $42.4 billion. The top legal advisor for M&A's was a tie between Landwell and Davis, Polk & Wardell followed by Linklaters.
Mid-market M&As in India peaked in June this year, aggregating to a value of around $630 million with around 135 deals. This reflects the trend in Asia (excluding Japan), where deal volume and value also peaked in June with deals worth $6.8 billion being struck. But August saw a major drop in value of deals to around $175 million, as compared to deals worth $400 million in July, data showed. The deals in August 2008 were valued at $490 million.
Consumer staples was the most active sector in 2009, followed by financial services, materials, consumer products and energy & power.