Seed stage venture capital firm Blume Ventures has stopped making fresh additions to its portfolio from its maiden fund and is focusing on raising $50-60 million in its second fund where it is targeting overseas institutional investors but also plans to have a domestic structure to channel capital locally, it said in its half yearly report for July-December 2014.
"We continue to be focused on seed/early-stage investing which is not a distinct focus area for most funds in the market," the report, undersigned by its co-founders and managing partners Karthik Reddy and Sanjay Nath, said.
Meanwhile, the VC firm also shared its own report card and said as many as eight portfolio firms saw through a Series A round of fundraising (against its target of 8-10) in 2014 (with a spill-over to January 2015). These include GreyOrange, Covacsis, WeAreHolidays, Instamojo, Hashcube, Purplle, Nowfloats and Tookitaki.
Moreover, three investee firms Zopper, TaxiForSure and Hotelogix completed Series B funding (target of two-three) and one Series C round (TaxiForSure).
It also scored one part-secondary exit besides four full exits (involving sales of assets, even if not material to returns) besides one grand exit.
An email sent to the firm's co-founders on the exits and more did not elicit a response, but the firm counted as many seven exit events (excluding the most recent one where TaxiForSure has been bought by Ola in a cash plus stock deal).
The firm said five of these exits were under par where the value of exchange was less than the original investment value. Among these, it counted Kuliza's acquisition of Adepto, Delhivery's acquisition of Gharpay, Hopscotch buying Skoolshop, Cliantha's acquisition of Karmic and Times Internet acquiring Moneysights. All of these were asset purchases and not a deal to buy the portfolio company per se.
The other two are Boku's deal to buy Qubecell and the more recent transaction where Twitter acquired ZipDial, the sole multi-bagger exit for Blume (not counting TaxiForSure which should also be a grand exit given the valuation it got).
2015 goals
The firm said in the report that it is even more ambitious this year and expects most of its residual star portfolio firms where it originally invested during 2011-2013 to break out this year.
It is aiming to see 10-12 portfolio firms complete Series A rounds (in addition to the 14 achieved to date); four-five Series B and later stage VC funding rounds (in addition to the five to date) and three-four 'positive' exit outcomes through company sales (in addition to two profitable ones to date).
Indian tech ventures in the big valuation league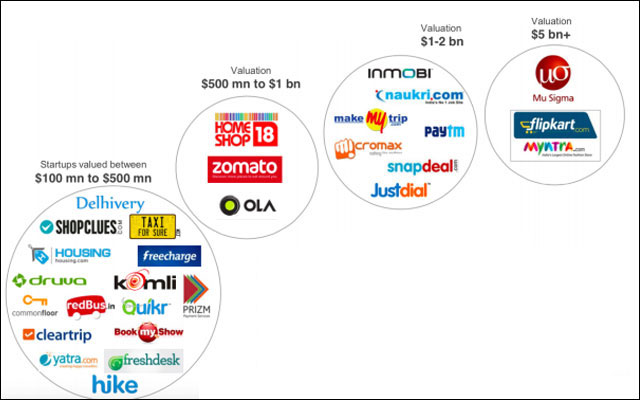 Its in-house estimates counted some 16 Indian firms which are in the $100-500 million valuation bracket; three in the $500 million-$1 billion range; seven in the $1-2 billion bracket and two in the $5 billion plus level.
(Edited by Joby Puthuparampil Johnson)