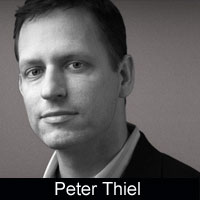 Facebook's shares may have taken a beating, but billionaire investor Peter Thiel, who took an early bet on the social networking company, is setting up a new venture capital firm, media reports said.
Thiel had sold shares worth $640 million in the social networking firm's IPO. The stock closed Wednesday at $31.60, from its IPO price of $38.
Thiel's new venture capital firm, Mithril Capital Management, has $402 in its kitty, but the contrarian investor's contribution to that is not known, The New York Times reported. Thiel, a co-founder of PayPal, also runs earlier stage investment fund, Founders Fund, and macroeconomic hedge fund, Clarium Capital. Former Clarium managing director, Ajay Royan, is also part of the firm, to be based in San Francisco, but Thiel is the largest investor, according to NYT.
The focus of Mithril would be on startups seeking to ramp up and Royan has stated that its average investment would be above $20 million, the NYT reported. Thiel and Royan are positioning Mithril in the space between companies which have got early-stage funding and pre-IPO companies, the report said. They have sensed a vast opportunity in the intensive growth stage companies, where opportunities are vast, but investor presence is shallow, the NYT report says.
Jim O'Neill, the co-founder of the 20 under 20 Thiel Fellowships for promising young entrepreneurs, will also be a partner in Mithril, Reuters reported. In 2010, Thiel had launched the fellowship of $100,000 for select entrepreneurs willing to give up college for two years, according to CNBC.
The reference to Mithril comes in many works of J.R. Tolkien including "Lord of the Rings," as a strong, lightweight metal mined by dwarfs, according to the Reuters report.