Asian Development Bank (ADB) has sliced its growth forecast for India, citing economic slowdown in industrial countries, a weak monsoon and stalled action on some key structural reforms, it said on Wednesday.
The Manila-based organisation also trimmed forecast for China, highlighting that Chinese economy will miss its growth target of 7 per cent this year.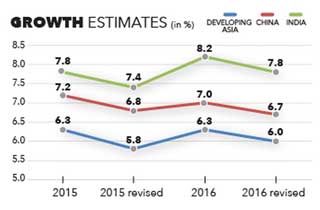 ADB in its annual economic publication, Asian Development Outlook 2015, forecast India to grow at 7.4 per cent this fiscal lower than 7.8 per cent it had estimated in March. It also snipped FY16 growth projection from 8.2 per cent to 7.8 per cent. On the other hand, ADB projected a growth of 6.8 per cent for China in 2015 and said this would decelerate further to 6.7 per cent for 2016.
The report pointed to further downward revisions from July projections for Southeast Asian economies to 4.4 per cent for 2015 and 4.9 per cent for 2016.  Growth estimates for developing Asia were revised downward from 6.3 per cent to 5.8 per cent for 2015 and from 6.3 to 6 per cent for 2016. Bangladesh and Vietnam were the only two economies which saw an upward revision in forecasts, with projections for Bangladesh revised from 6.1 per cent to 6.5 per cent in 2015 and from 6.4 per cent to 6.7 per cent in 2016. For Vietnam, growth was revised from 6.1 per cent and 6.2 per cent in 2015 and 2016 to 6.5 per cent and 6.6 per cent, respectively.
In July, the regional development finance organisation had cut Asian growth estimates while maintaining a status quo for India. With the downward revision, ADB has become second agency to trim India's growth figures. Earlier this month, rating agency Moody's had snipped growth figures for India and China.
"In addition to slower-than-anticipated global growth, the revisions reflect expectations that reforms and improved investor confidence needed to bolster the economy could be months away and could still be set back by potential global market turmoil," said Shang-Jin Wei, ADB's chief economist.
While the organisation pointed that low inflation and rising tax revenues augur well for the economy, the slow growth in global economy and weakening of currencies may hurt India's exports.
The report also highlighted that the slowdown in GDP growth in the first quarter was on the back of a slide in growth in consumption, manufacturing and services, with exports contracting significantly due to lower oil prices and lacklustre demand but a debottlenecking of stalled investment projects is likely to increase investment activity.
ADB forecasts inflation to average 5 per cent for the current fiscal, while rising to 5.5 per cent for the next.
"Continued soft consumer prices will give the central bank scope for further reduction in interest rates in the second half of FY2015," it said.
The Reserve Bank of India will meet on September 29 amid expectations of a rate cut as the US Federal Reserve decided to put off rate hike this month.