Global rating agency Moody's has cut its GDP growth forecast for the Asia Pacific region (APAC) highlighting weakening Chinese economy and its impact on subdued global growth.
However, the agency maintained that credit profiles of economies were resilient to lower growth as indicators like government debt and balance of payments ratios were in line with Moody's projection.
Moody's had already revised the growth figures for India last month citing weaker monsoons and a tardy credit growth despite three rate cuts. The agency now expects India to grow at 7 per cent in 2015 and 7.5 per cent in 2016 down from 7.5 per cent and 7.6 per cent, respectively. While the report maintained a growth rate of 6.8 per cent for China this year, it trimmed the estimates from 6.5 per cent to 6.3 per cent for 2016.
China had revised down its GDP growth estimate for 2014 from 7.4 per cent to 7.3 per cent on Monday, aggravating global investor concerns about the impact. The 30-stock Indian benchmark stock index Sensex skid to close below the psychological significant 25,000 level for the first time in more than a year.
However, Moody's highlighted that slowdown was more stark in Asia's smaller economies and expects APAC excluding China, India and Japan to grow at just 3 per cent this year, compared with a previous forecast of 3.6 per cent. It has also cut the growth estimate for this set of economies from 4 per cent to 3.1 per cent for next year.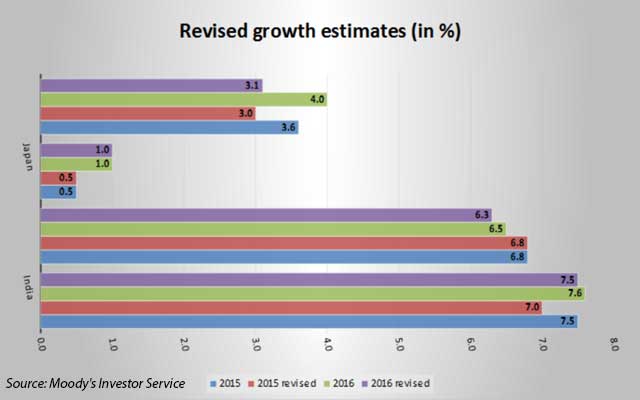 "Weak demand from China (Aa3 stable) has dampened the overall export outlook for the region, while softer commodity prices weigh on some sovereigns' export revenues, external positions and fiscal balances," the rating agency said on Tuesday.
The report highlighted that while investment boost from government infrastructure spending has not materialised in some cases, credit growth hasn't picked up despite central banks across the region cutting rates.