Sandeep Bali, Kunal Modi and Nikunj Karia met almost every day at a Starbucks in Juhu, a western suburb of Mumbai, to discuss their to-be-launched startup.
The trio would sit for hours, brainstorming about the co-working space venture, with just the Kenya Roast keeping them going. Whenever the waiters approached them asking if they needed anything else, the answer was a polite "no."
After all, all they needed was a table and coffee.
And that's how the name—WorkTNC—struck them, with 'T' standing for table and 'C' signifying coffee.
Launched in mid-March, WorkTNC is an aggregator of co-working spaces. In the first 50 days itself, it claims to have done gross sales of Rs 60 lakh and achieved "profitability."
Currently bootstrapped, it expects to raise external funding in the next six months.
Unity in diversity
The co-founders, all in their late 20s, come from diverse backgrounds. For example, Bali, 29, is a school dropout who studied computers on his own and created his website while he was in standard 9. He shot to cyber fame among hackers when he discovered a bug in Yahoo Launch. Bali has worked with Foxymoron, CouponDunia and the Kalaari-funded Embibe.
Modi, a Purdue University graduate, quit his family business of real estate construction to follow his passion of building a tech startup. He has worked with Bali at CouponDunia earlier.
A chartered accountant and CFA (level 2), Karia leads finance and operations at WorkTNC.
Heterogenous as the founding group might be, the vision is clear. "We want to be the Airbnb of co-working," says Bali. (Airbnb is a US-based aggregator in the hospitality space.)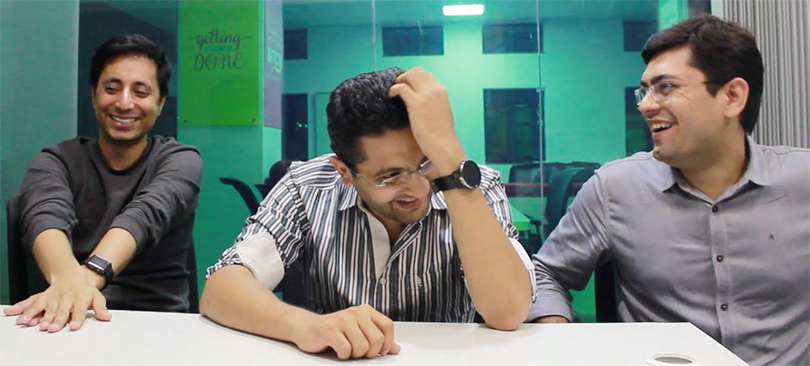 How it works
WorkTNC lists co-working spaces across locations, allowing young startups and founders to discover and book such spaces at competitive rates.
"Most co-working spaces get the location and ambience right, but sometimes prices are a bit on the higher side.
Many times there is no co-working centre serving a location with high demand. At the same time, there are several commercial office properties in these locations which are lying empty, failing to find customers who would want to occupy the whole space."
That is exactly the gap WorkTNC is trying to fill.
Located in Andheri East, Mumbai, Vivaplex was one such property with four floors and 70 seats on each. The owner was occupying two floors, leaving the ground and the first floor empty. Four months had passed and the owner had failed to find a customer for a price of Rs 1.8 lakh per floor, says Bali.
WorkTNC convinced the owner to try the co-working model for one floor.
Within 45 days, claims Bali, the 70 seats were rented out to seven different companies and the entire floor was occupied. Moreover, says Bali, the gross earning for Vivaplex's owner turned out to be Rs 3.5 lakh, of which Rs 40,000 went towards various amenities like free Wi-Fi and electricity. That still left him with a sizeable profit of Rs 3.1 lakh, Rs 1.3 lakh more than his original asking rent of Rs 1.8 lakh.
That is 72% greater earnings from the same property. You get the picture!
Now WorkTNC and Vivaplex are all set to fill the second empty floor.
Co-working space ventures operate on two kinds of business models. In the first, they either lease or buy office space. In the second, they use areas within restaurants, cafes etc as working spaces. Startups such as Innov8, 91Springboard, CoLife and InstaOffice follow the first model while those such as myHQ follow the second. Awfis operates a mix of the two.
Business, revenue goals
Like a seasoned growth hacker, Bali has perfected the art of convincing clients. The approach, he says, matters the most.
Whenever he approaches a client, he takes along 1-2 startups looking for space. This, Bali says, boosts the trust factor, helping them believe WorkTNC can deliver supply.
WorkTNC is targeting gross sales of $1 million (about Rs 6.4 crore) by the end of calendar year 2017. Bali, who believes in "understating and overdelivering", feels the company may even top the $2-million mark if things go as expected.
Mohammad Sirajuddin, co-founder of co-working space Creator's Gurukul, says, "WorkTNC is one of the better aggregators in the country. Aggregators bring in an additional revenue stream. They bring in people who help you in sales."
WorkTNC, which is currently focused on the Mumbai market, has more than 30 co-working space brands listed on its platform. It expects to enter the Bangalore market soon.
The startup has been accepted into the prestigious YCombinator Startup School and, mind you, more than 50,000 startups applied for it.
But it's not that WorkTNC is operating in a competition-free space. Last year, branded workspace aggregator Qdesq Realtech Pvt. Ltd had raised an undisclosed amount from a clutch of investors.
In 2015, Mumbai-based on-demand platform for sharing and renting office space MyCuteOffice had raised an undisclosed amount in seed funding from Lead Angels, an angel group.
But are these aggregators really scalable?
Devendra Agrawal, co-founder of co-working space InstaOffice, says, "The aggregation model may not work for co-working spaces. Because it is a longer [term] utility product. A cab or an airline ticket is for a few hours.
Aggregating these spaces can be difficult, because the end-product is not standard."
The trio, however, is undeterred by doubts around the model. And "doubt" is something they can ill-afford given how lofty their goals are.