Round one of the public spat between Housing.com CEO Rahul Yadav and his investors seems to have gone in favour of the 26-year-old IIT Bombay lad, who co-founded the online real estate portal along with 11 other batchmates three years ago.
On Tuesday afternoon, when a brief statement from the public relations firm of Housing.com said the board, which met at law firm AZB & Partner's Mumbai office, had decided to retain Yadav as CEO, it surprised everyone.
While the board "reaffirmed its faith in Rahul Yadav's vision at Housing", Yadav said "after some frank and healthy discussions with the board", he has agreed to withdraw his resignation and also apologised for his "unacceptable comments" about the board members.
On April 30, Yadav had sent his resignation letter to the board in which he also mocked the fellow board members and investors saying "I don't think you guys are intellectually capable enough to have any sensible discussion".
With the relation between the young CEO and his investors, which included the largest shareholder SoftBank, VC firms Nexus Venture Partners and Helion Ventures, deteriorating to an all-time low, it looked like there was no scope for rapprochement. But Yadav, as the cliche goes, had nine lives of a cat. 
Several questions still remain. What prompted the board to compromise and let the impulsive and brash Yadav remain as CEO?
Housing, which has raised about $120 million in five rounds, is still in a product development stage (unlike Flipkart and Snadpdeal which are in execution mode). The founding team continues to play an important role in a company at this stage. Since investors have bet on the founder's vision, it makes it difficult to remove them.
"Ultimately, you need a mad and passionate person like Yadav to drive such a product-heavy company," said a venture capitalist who has been following Housing.com closely. He spoke on the condition of anonymity. "Just because the founder has acted immaturely, investors can't."
So investors' decision to compromise may be in the best interest of the company but importantly it's in their own self interest. 
Yadav, who dropped out of IIT Bombay in his final year before starting out on his own, is known for his scorn for his rivals while he also has a propensity to get into public spats with anyone who disagreed with him.
In a recent email to employees at Housing, which was reviewed by VCCircle, Yadav called his rivals MagicBricks and 99acres as "burden on the society".
Cussing rivals could sometimes help galvanise energies and passions of employees towards achieving goals. But regular spats with investors and media are definitely going to take one's attention away from running the business.
Industry watchers say there is a tendency among certain entrepreneurs to romanticise brashness and aggression in their behaviours, modelling themselves on tech icons like Apple's deceased co-founder Steve Jobs, who was also known for his bad temper in his interaction with colleagues and rivals.
Yadav also seems to have been inspired by such tech icons. For instance, Yadav's now infamous remarks against the investors in his resignation letter almost resembled an incident in the movie 'Social Network' in which Zuckerberg tells his opponents' lawyer: "...my colleagues and I are doing things that no one in this room, including and especially your clients, are intellectually or creatively capable of doing."
Says the investor mentioned earlier: "We are seeing this in quite a few startup founders where arrogance is at the centre of their behaviour. They want to behave like those whom they hero-worship, but the reality is they are not."
Apparently, after the recent Housing spats became public, venture capitalists complained that communication from some of the startup founders have become casual and immature as if they were inspired by these incidents.
"We are seeing this tendency among creative people. They tend to be dismissive of other people around them. It comes with their audacity and brilliance, but that is a double edged sword," said Rehan Yar Khan, general partner, Orios Ventures, an early stage venture capital firm.
However, Khan thinks investors have only limited options and they are forced to compromise. "Who is going to run the company? Finally, you will have to put up with this guy," he said.
Mahesh Murthy, managing partner, Seedfund, says, "I do not have a problem with arrogance. But it has to be backed by performance. In this case (Housing), it is not backed by anything," he said.
Murthy went a step further to say the compromise reached at Housing boardroom might even be a short term thing. "I don't think it is a solution for the long term," he said.
Yadav had slipped in and out of various controversies in the last couple of months which included an ugly public spat with Sequoia Capital India's managing director Shailendra Singh over an alleged poaching issue and a run-in with media house Times Group which resulted in a Rs 100-crore legal notice against Housing's management, board and the investors. The status of this notice is not known.
The Tuesday's board meeting is not an outright win for Yadav, as SoftBank, which is the largest shareholder with 38 per cent in Housing, has now taken on an active role in the management. The board has also made changes in reporting for some of the top management, who will also work with SoftBank's Jonathan Bullock. He recently replaced SoftBank's vice chairman Nikesh Arora on the board of the online real estate company. Besides, other investors Helion Ventures and Nexus Partners have also joined the board.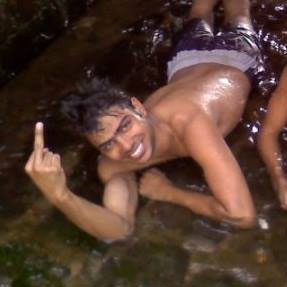 The company, according to sources, is currently working on some game-changing innovation on the product side and for the time being they want Yadav to focus on that. "It will take some time to settle down as media has blown up the issue, but you will see some kick-ass technology coming from Housing very soon," said an investor who knows the company closely.
But can Yadav be reined in? According to Orios' Khan, "It will be difficult to control such personalities".  
Yadav, who won the first round of the highly publicised boardroom battle, still remains unabashed. His Facebook profile picture updated on Wednesday shows a gleaming Yadav staring at the camera and showing his middle finger.
Housing competes with PropTiger.com, in which News Corp, the owner of the parent of this website, acquired 25 per cent stake in November last year.