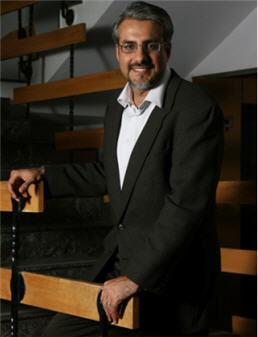 Reva Electric Car is a game changing automotive from India. Ever since its launch in India in 2001, the company has sold over 3,000 units; half of them in India and half in exports. Now that the countries world over are moving towards less polluting vehicles and cars run on alternative fuels, Reva is staring at a brigher future.
VCCircle spoke to Chetan Maini, the brain behind Reva. He has over 14 years experience with electric vehicles during the course of which he has developed over six electric, solar and hybrid-electric vehicles in India and US. Chetan holds a graduate degree in Mechanical Engineering from the University of Michigan where he focused on solar electric vehicles, and a postgraduate degree in Mechanical Engineering from the University of Stanford where his focus was on hybrid electric vehicles.
He has a patent in energy management system for Electric Vehicles and has presented several technical papers on EVs globally. Maini, who has won several awards for his pioneering initiative, is looking at raising more capital for expansion. For one, they are looking at setting up a new plant which will have a production capacity of 30,000 units a year. Maini is looking to reach that capacity in three years from now, and sell at least half of them in India and the rest overseas. The company has already received funding from Draper Fisher Jurvetson and Global Environment Fund (GEF). Excerpts:
Could you tell us more about your plans to set up a new plant?
We have a new plant coming up in Bangalore in which we have been making investments. It will be up and running by the end of this year. It would have a capacity of 30,000 vehicles per year.
At what markets is the expansion really targeted?
We have been currently selling in 10 countries and test marketing in 10 other countries. So we will be up and running in these 10 other countries such as France in Europe, Philippines in Asia and also in South America. Test marketing generally means we have between four and 12 cars, we have an agreement with the master distributor and we are setting up all the distribution and the regulatory framework. And in India, from Bangalore we have expanded out to Delhi and by the end of this year we should be present in 15 cities in India.
Do you think Indian consumers are ready for products like the electric cars?
Yes. I think there has been a change in mindset from now to five years ago and what we are seeing today is that people are really considering electric cars as options in their decision making process. I would say that five years ago that wasn't the situation. I think there is a change in the mindset. We see this happening a lot more in the Europe and the US. It is also driven by cost structures and operational costs and not just the fact that it is electric. Reva's positioning today is that of the second car. The second car market in India today is at 40%, up from 25% five years ago. About 400,000 cars every year are being sold as second cars in the households. So it's the largest growing segment in India and for the second car in the house hold, people are looking for an option that is more city centric.
For most people their second cars don't need a seating capacity of 5 people and are not for long distances. All they want in a second car is that it should take them from point A to point B in a city, should be easy to drive, automatic and economical. Electrics are 10 times cheaper than the petrol cars and at the same time are very low on maintenance cost. The value proposition is not that it's electric. Those living in apartments may not even have sufficient parking space for a second car. So with a combination of a regular car and a reva, they can also park well. It fits well in how you see the society changing and the fact that people are thinking that 'okay, if I have a solution for city mobility and it actually saves me money and is clean, let me start to look at it'.  
How did you conceive the idea of Reva?
Reva started in 1994 and we did research and development for 7 years which included around the first five years of hardcore research and development and then the next two years we built 40 cars and tested them for a billion kilometers before launching in 2001. We launched the product (Reva) in 2001 only in Bangalore and then we went on to London and then to other cities.
As for where this came through: When I was in college, I had the opportunity to be a part of the university solar car team in the US and we raced as part of the solar car team from Florida to Michigan and our team stood first. And General motors sponsored us to go to Australia in 1990. We raced across the continent from Darwin to Adelaide and our team came third, right behind Honda research and development.
For me what was really an eye opener was that if you could cross a continent on fine energy then the future of this seemed really good. During those days, I was coming every couple of years to India as I was still studying in the US, and later I started to work there (in the US). 
I found that with every trip of mine the pollution was getting worse and that the auto market was booming. I realised that when you look at long-term in terms of pollution and energy security, these are going to be the issues in the future. They weren't of course in 1990, people didn't perceive them as issues then. But that's what got me going. In 1991, three other friends and I worked for a friend's father in California in a start up company (AEV LLC), which was set up to do electric vehicle technologies. Three years later (in 1994), that company and our Maini Group in Bangalore joined hands to set up Reva Electric Car Company. 
What are the benefits of driving a Reva over other regular cars?
I think the first good thing is that it (Reva) has been designed as a city car - by far the easiest car to drive, it is fully automatic. Less than 1% cars are automatic. There's no clutch and no gear - very convenient features for driving. It has a high seating position and the largest doors in its class. It's the only car that has a dent proof ABS panel. You can actually take a hammer and hit – the panels are completely dent proof. It's a good feature in India because invariably you have a scooter or a cyclist hit you. You would see Revas that are five years old and are absolutely dent free.
Coming on to the economics point of view, the car costs 40 paisa per kilometer. So if an average person drives say 1,200 km a month, it would cost him around Rs 480 in a Reva and it would cost around Rs 4,800- Rs 5,000 in a petrol car. In a month he is almost saving Rs 4,500 and in a year it would be over Rs 50,000. So in a time span of five years, a person would save around Rs 2.5 lakh. So with Reva, the savings are very high. They (Reva) don't have oil filters, spark plugs and radiators and carburettors and all the usual things that you'll have to fix very often in a regular car.
Electric cars are very low maintenance from that perspective. As an electric car, we are little more sophisticated as Reva has an onboard computer system that monitors everything in the car and optimises energy. We have features called regenerative breaking so when you press the break pedal, the motor becomes the generator and charges the battery – you recuperate the energy. So while more cars in stop and go driving actually have less mileage, Reva in stop and go driving gives better mileage because the energy is put back in the batteries.
And then we have a lot of comfort features, for example, most cars have a an airconditioning or heating but Reva has a remote controlled air conditioning and heating so if you press a button on the remote control, your car can pre-heat or pre-cool before you walk in to it.
These are some of the key features but from the consumer perspective, our proposition is that it is really easy to drive, easy to park and it doesn't cost you the earth.
What about charging Reva? How long doe it take to charge it completely?
The charger comes with the car. To charge it, you plug into any 220 volts plug point. We install a plug point a day before you buy the car in your portico or garage of your parking lot. In the first 2 and half hours it gets 80% charged, and it takes about 6-7 hours for it to charge completely, which is typically over night.
You just said that Reva is being marketed as the second car, so who exactly is the target consumer?
 It's the second car in the household which means that from a demographics perspective, 50% drivers are women drivers. For most of the cars, the women drivers are between 15% -20%, so when we say 50% drivers are women drivers, it's looking at the second car in the household where generally the husband or the wife is taking it out so you have a high population there. From an age point of view, its all over - you have young college kids to elderly people.
Since the volumes are lower, I would say that the more adventurous, more forward thinking, those who want to try something new or the early adopters (use Reva). In Bangalore, we have a population of IT communities that uses Reva. It happens with every new product that initially only the early adopters go for it and then slowly as the product starts to gain traction you get into more mainstream.  
What is the on road cost of Reva?
 In Bangalore its Rs 3.5 lakh onwards and goes up to Rs 4.5 lakh. In Delhi the government provides some subsidies for this so the on road price starts from Rs 2.99 lakh and goes up to Rs 3.8 lakh.
Which part of the world forms the bulk of your market?
The maximum number of cars we have today is in London. We have over 1,000 cars in London which is the largest number of electric cars by any manufacturer in a city. The next largest market is Norway. Norway has very positive policies, no taxes, no import duties and a lot of support for electric cars. Then we have Spain, Cyprus, Greece, Ireland and Belgium in Europe. In Asia, we are in Japan and in Nepal. And we are test marketing in South America which includes Chile, Brazil and Columbia. In Europe we are test marketing in Slovenia, France and Hungary. In Asia, we are test marketing in Philippines.
 Is India currently a good market for Reva?
We are really in two cities and our target is that once we are in 15 cities, we can begin expansion. We are setting up a new plant for 30,000 vehicles, and our idea is to probably hit that kind of capacity in three years from today with probably 50% market in India and 50% overseas.
 How many Revas have been sold in India till now?
 We have over 3,000 vehicles on the road - about 1,500 are in India and 1,500 are in the overseas market.
What kind of revenues is Reva making currently?
We have only sold 3,000 cars till now so the revenue streams are not too positive till now. We'll take another year to get to an operational break-even. Overall break-even will take us longer because we have done significant investments in technology and suffered post production losses for the past 7 years. So it will take us a couple of more years to get profitable to cover and recuperate all our losses.
What stakes do DFJ and GEF (Global Environment Fund) hold in Reva?
 I can't disclose the percentages of stakes as it's a part of our NDA (Non Disclosure Agreement).  Both DFJ and GEF have invested approximately $10 million each. The investors have a significant minority. The original promoters hold the majority stake.
How and by when do you see your investors making an exit?
It would depend on the market conditions. I think our investors are here for a long term. We have had Obama recently announce that by 2013 he would like to see a million electric cars in the US, so I think our investors are there for the future and I don't think they have an immediate timeline for exiting.
 Are you planning to raise another round of funding?
Yes. We are evaluating the possibilities. The opportunity that exists today is very high and Reva has been able to be ahead of the curve and capitalise on it so we are looking at significant growth opportunities. We still have not decided on the amount needed to be raised.
What are your expansion plans?
Besides the new plant that we are setting up in Bangalore, which will have a capacity of 30,000 vehicles per year, we will be launching one new model and one new variant every year. We are also looking at European models.