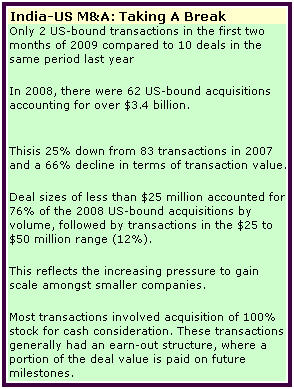 It was just two years ago when corporate India went on a borrowing overdrive to fund capacity acquisitions and costly overseas acquisitions; it actually seemed like a right thing to do so, as global markets were awash with liquidity at extremely low interest rates.
Cut to the present, there have been only two US-bound transactions in the first two months of 2009 as compared to 10 transactions in the same period last year, according to a report by , a US based investment bank.
So what has really changed? It is the lack of acquisition financing.
With capital in short supply the world over and the rupee reeling, that same easy money of the past is turning out to be an expensive liability now. Add to it is a sharp decline in growth projections, lack of acquisition financing, and a decrease in overseas trade with the global economic recession, which has caused Indian companies to put a halt on their global growth plans.
In 2008, Indian companies accounted for a total of 62 US-bound acquisitions with a cumulative transaction value of over $3.4 billion. This represents a 25% decrease over the 83 transactions in 2007 and a 66% decline in terms of transaction value, says the Virtus report.
There have only been two US bound acquisitions in 2009 till date: Piramal Healthcare's acquisition of Inhalation Anesthetic Gas Allocation Division of RxElite and Cosmo Film's acquisition of GB Commercial Print Finishing Business.
Gone are the days of billion-dollar or the mega deals. Mega-size deals of 2008 included Tata Chemicals' acquisition of General Chemicals for $1 billion and GMR Energy's purchase of 50% equity in Intergen for $1.1 billion.
IT's Strong
There were 34 US bound acquisition in the IT/ITES space in 2008. IT/ITES remains the most acquisitive industry capturing over 55% share of the total US-bound transactions by volume, followed by healthcare (15%); manufacturing, media and real estate (5% each); and agriculture and mining (3% each), says the report.
Other industries (agriculture, real estate and mining) accounted for less than 2% each in terms of volume. It is still to be seen how deal making will fare in the IT sector in 2009 particularly post Satyam, as India's biggest corporate scandal casts a shadow on the offshoring sector. This was followed by healthcare industry, where in life sciences industry captured the 15% of the transaction volume with nine US-bound acquisitions in 2008.
2008 saw most transactions involving acquisition of 100% stock for cash consideration. These transactions generally had an earn-out structure, where a portion of the deal value is paid on future milestones, said the report.
It is still to be seen how dealmaking will pan out in 2009, and if the sluggish trend seen at the onset of the calendar year continues going forward. The trend can continue as balance sheets are looking more vulnerable. Since FCCBs are resulting in losses every quarter with the depreciation of rupee, and the conversion to equity prices are still looking far off. Things can become much better in times to come if the Indian economy rebounds sooner than later, leading to rise in profits and appreciation in currency.