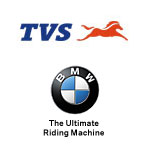 India's fourth largest two-wheeler maker TVS Motor Company Ltd has joined hands with BMW Motorrad to develop and manufacture a new series of motorcycles that will cater to the sub-500cc segment. The bulk of India's motorcycle market falls in that category where Hero MotoCorp, Bajaj Auto and Honda Motorcycle & Scooter India, followed by TVS, happen to be the key players.
Motorcycles with high-powered engines happen to be the space where global firms dominate but it covers only a small portion of the local market.
As per the agreement, both companies will offer their own vehicle derivatives, which will be sold through their own distribution channels in India and across the globe.
"With BMW Motorrad, we see an ideal long-term strategic partner who shares our core values – focus on quality, engineering prowess, innovation and customer satisfaction. We intend to leverage each other's strengths to deliver a new series of products, offering cutting-edge technology for our customers," said Venu Srinivasan, chairman of TVS Motor.
"In view of changing motorcycle markets, demographic developments and increasing environmental demands, we are expanding our product range so as to tap into fresh growth potential. This means in future, we will be able to offer vehicles in smaller capacity classes in addition to the BMW Motorrad core segments," said Stephan Schaller, president of BMW Motorrad.
BMW Motorrad is part of the BMW Group that operates 28 production and assembly plants in 13 countries, as well as a global sales network with branches in more than 140 countries (out of which BMW Motorrad is present in 100-plus countries). The main production facility of BMW Motorrad is located in Berlin and last year, it sold around 1.85 million cars and over 117,000 motorcycles globally.
The BMW Motorrad model programme covers 19 premium motorcycle and scooter models (in the range of 650cc-1600cc) across categories such as Enduro, Sport, Roadster, Tour and Urban Mobility.
TVS scrip shot up almost 10 per cent on Monday as the agreement was formally announced. Rumours of an impending deal with BMW had set the stock counter buzzing for the past few days. However, the firms did not announce any formal deal where BMW might pick up some stake in TVS and the exact business dynamics of how the alliance would work was not disclosed.
The deal with TVS will spruce up the portfolio of BMW in lower-powered motorcycles while TVS will gain from expertise to take on its competition better.
Last year, TVS lost the position of the third largest two-wheeler maker in India as Honda Motorcycle & Scooter India pipped it in a market dominated by Bain Capital and GIC-backed Hero MotoCorp.
Earlier, TVS had a joint venture with Japan's Suzuki but it came unstuck in 2001 amid many such cross-border deals in the two-wheeler industry. Suzuki had later launched its own operations.
(Edited by Sanghamitra Mandal)