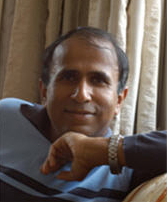 Education services firm TutorVista Global Pvt Ltd, is entering the market again to raise $50 million through 15-20% stake dilution even as existing strategic investors like Manipal Education and Medical Group (MEMG) and British publishing group Pearson could explore taking more exposure in the Bangalore-headquartered entity.
Some of the investors on board along with a new entrant may participate in this round, but it is unlikely that anyone of them will move into majority or close to a majority position in the immediate future. TuitorVista now straddles four segments in the red hot education industry spread across online tutoring, digital learning content, brick-n-mortar tutorial centres and K-12 schools. 
The latest fundraising move is expected to value TutorVista in the range of $250-300 million going by the proposed stake dilution plan.
Sources tracking the development said, TutorVista promoter K Ganesh (in pic) was likely to take the proposal first to the investors who are already on its board. The five-year-old start-up, which started off as an online tutoring platform catering to students in the US leveraging on
India's technology story and its vast teaching talent pool, has previously attracted funding from private equity investors such as Sequoia Capital and Lightspeed Ventures, besides MEMG and Pearson who may be having strategic intent behind their investments.
These investors together hold around 55% stake at present leaving the rest with Ganesh and the management with stock options, sources added. TutorVista holding entity has so far raised $38 million in its previous rounds and the proposed round will take the total fund-raising value to $88 million.
Speaking to VCCircle, K Ganesh, Founder and Chairman, TutorVista said: "We want to raise cash at the holding entity which the four different operations can draw down depending on requirements. In recent months, we were working on raising $20 million for expanding the K-12 school network. But we now feel that it is better to bring in investors at the entity level rather than into subsidiaries directly."
One source said, private equity funds like New Enterprise Associates (NEA), TPG Growth and Sterling could show interest in investing into an asset which combines the growth stories of Internet consumer services and Indian market.
This calendar year has already seen 11 deals worth $149 million in less than six months, 70% higher than the total investments of $88 million across five deals witnessed in the whole calendar 2009, according to VCCEdge, the financial research platform of VCCircle. The largest deal came when Premji Invest put $44 million in Manipal Universal Learning Pvt Ltd.
Ganesh declined to elaborate on his fundraising except that he hoped to raise this amount through a combination of new investor and follow-on investments by existing ones. "It is possible that a new investor could bring in around $30 million, while some of the existing investors could pump in additional $20 million. But we have not had any formal discussions on all this," he added.
TutorVista model was now de-risked with operations in four growth areas in the education sector, with each one of them having the potential to go on its own in the future, Ganesh said. TutorVista, which already occupies fast-growing spaces within the education vertical, is also examining new forays in the pre-school and vocational training areas. "I personally go for businesses that are scalable. We are exploring a few new areas," Ganesh reasons.
The firm's online tutoring business now caters to over 20,000 students globally, but mostly in the US where it offers unlimited sessions for $100 per month compared to $40 per hour charged for conventional tutoring classes. Around 2100 teachers log on to the TutorVista platform from 98 locations. "Considering there are 60 million students in the US, the head room for growth is tremendous. And much of this can be managed without any significant capital addition," he explained. 
The capital requirements will be more geared to support expansion plans in K-12 schools (jumping to 100 schools in five years from 12 at present), network of tutorial centres (to six new states from just Karnataka and Kerala now) and digital content or e-learning solutions (which is currently reaching 700 schools and growing fast).
These three initiatives form the India story of TutorVista, which observers argue, is poised for a big uptick in sync with the growth potential.
A few years ago, TutorVista acquired Edurite Technologies to foray into digital class rooms and other e-learning solutions. It is now the second largest player in this market after Educomp. Edurite also teamed up with Manipal Education to enter the K-12 school segment, and uses the Manipal brand to own and manage schools spread across Bangalore, Pune, Hyderabad, Mangalore, Gurgaon and Nepal currently. Similarly, it took over Tandem, a network of tutorial centres in Kerala, to develop a chain of tutorials that are technology enabled and not centered around one star teacher.