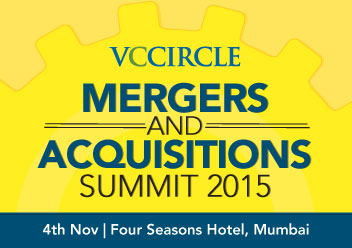 The mergers and acquisitions activity in India has gained substantial traction in recent times, thanks to the growing interest in opportunities that the domestic market provides. This, along with the rise of entrepreneurs who are willing to focus on growth over profit, has fueled the M&A landscape in India. The inaugural edition of VCCircle Mergers & Acquisition Summit, to be held on November 4 at Four Seasons Hotel in Mumbai, will take into account these exciting trends.
The event promises to provide participants an attractive platform to witness the optimism surrounding the M&A landscape in India. Participants can also gain valuable insight on the technicalities and inputs that foster good M&A practices.
The summit, with its comprehensive and well laid-out agenda, will focus on the factors driving M&As. It will discuss what makes India a hotbed for the next wave of M&A transactions, what makes Indian companies attractive and what are Indian companies looking to gain by going global. Participants will also deliberate on how the changing perception of Indian consumers has transformed the market and attracted more investors.
The summit will take a holistic view of the strategies and executions that can help close deals successfully. For instance, is it prudent to go for a big deal or should players be cautious and focus on several smaller deals? Taking note of the high number of M&As, the summit will specifically look at the influence the growing startup ecosystem is having on M&As in India. It will discuss whether M&As can drive exits for private equity investors.
These and many more trends, issues and challenges will be discussed during the summit. The summit will see participation from more than 200 stakeholders – strategic acquirers, deal practitioners, M&A heads, CEOs, private equity investors, entrepreneurs – making it one of the largest summits on M&As in terms of value it is going to impart.
To view speakers who have confirmed for this summit click here. 
Here are the key highlights of the topics which are going to be covered during the summit:
Is India a hotbed for the next wave of M&A transactions -- challenges and merits of cross-border M&A?
Inbound M&A bucks the trend: Leaders to chase global buyers.
Consolidation of outbound M&A: India's foray into global markets.
Which M&A strategy is the best – one big deal or several smaller ones?
Private equity and M&A: PE-financed M&A, exit-driven M&A, control deals in India.
Startup ecosystem fueling the domestic, inbound and outbound M&A opportunity: What does this mean for the industry?
Mapping regulatory developments affecting M&A transactions in India.
Case study analysis: Tax, structuring and re-routing involved in M&A deals.
In order to view the agenda in detail, click here.
Click here to register now or write to Kanika at register@vccircle.com or call 0120-4171111 to participate in this one-of-a-kind summit.
For branding and sponsorship opportunities, please write to Vijay at vijay@vccircle.com.
Send us your views, ideas and suggestions on Twitter; use our event hashtag: #VCCMASUMMIT