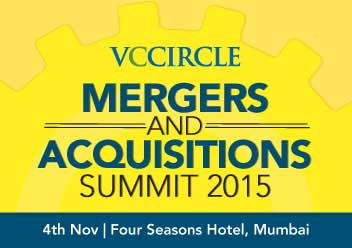 India has shown tremendous growth in merger and acquisition deals in recent years, spanning across sectors that include technology, pharmaceuticals, energy, finance, consumer goods and automobiles. The country has already seen deals worth $4.09 billion this year itself.
The M&A scene in India is driven mainly by domestic deals, fueled by the rise of tech entrepreneurs who are choosing to grow inorganically. Outbound and inbound deals have also seen high volume of activity in recent times. While large Indian companies are exploring foreign markets, international companies are targeting Indian companies to expand into the local market.
With these emerging trends, the M&A space in India is in for exciting times and one can expect more big-ticket deals in the near future. In the wake of such unprecedented activity, VCCircle is proud to announce the launch of VCCircle Mergers & Acquisitions Summit 2015. The summit will be held onNovember 4, 2015, at Four Seasons Hotel, Mumbai.
This unique event will bring together more than 150 stakeholders: strategic acquirers, deal practitioners, M&A heads, CEOs, private equity investors and entrepreneurs under one roof. They will not only share their experiences and nuances involved in deals but will also predict the future trends.
The summit will provide an ideal setting for professionals and deal makers to explore and understand the dynamics governing the course of M&As – domestic, inbound and outbound – happening in India and what it takes to inculcate good practices to make M&As a favourable vehicle for growth.
The key topics which will be covered at the summit are:
Is India a hotbed for the next wave of M&A transactions: Challenges and Merits of Cross-Border M&As
Inbound M&As buck the trend: Leaders to Chase Global Buyers
Consolidation of outbound M&As: India's Foray into the Global Market
Which M&A strategy is the best – one big deal or several smaller ones?
Private equity and M&As: PE-financed Deals, Exit-driven and Control Deals in India
Startup ecosystem fueling the domestic, inbound and outbound M&A opportunity: What does this mean for the industry?
Mapping regulatory developments affecting M&A transactions in India
Case Study Analysis: Tax, Structuring and Re-routing Involved in M&A Deals
In order to access the detailed agenda, please click here
Click here to register now or write to Kanika at register@vccircle.com or call 0120-4171111 to participate in this one-of-a-kind summit.
For branding and sponsorship opportunities, please write to Vijay at vijay@vccircle.com.
Send us your views, ideas and suggestions on Twitter; use our event hashtag: #VCCM&A