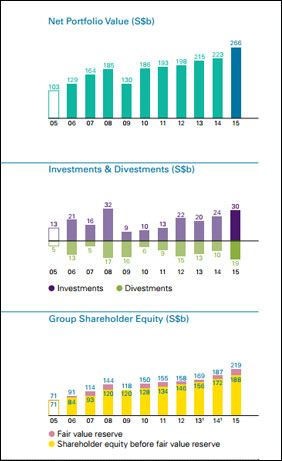 Singapore government's investment arm Temasek reported the second highest investment ever in a single year during the year ended March 31, 2015 and clocked record divestment from existing portfolio, taking advantage of the rise in global stock markets.
Temasek, one of the prolific large private investors in India that has already sealed around half a dozen deals since January this year in the country, said its global portfolio value rose 19.2 per cent to close the year ended March 31, 2015 at a record S$266 billion ($194 billion).
It stepped its investment as well as divestment activity last year with the previous fiscal ending up as its second most active year in terms of gross investments. Overall, during FY15, the fund house invested S$30 billion and divested S$19 billion, resulting in a net investment of S$11 billion.
Although net investments declined over FY14, it was due to record divestments. Divestments almost doubled compared with the previous year and was the highest ever topping the S$17 billion of asset sales in FY08.
The gross new investment was just a shade below the FY08 high of S$32 billion, at the peak of the previous bull-run which ended in January 2008. Group net profit at S$14 billion was also the second-highest ever behind S$18 billion in FY08.
"Our pace of new investments reflects our benign view of the global economy over the next few years. We stepped up our divestments in the latter half of the year to capitalise on the liquidity-driven rally in some markets," said Lim Boon Heng, chairman, Temasek.
Although Temasek is one of the two state investment firms of Singapore, its sister entity GIC is officially the sovereign wealth fund of the island nation.
Temasek upped its exposure to Asia (outside of Singapore, which covers China, India, Japan and the rest of Southeast Asia) marginally to 42 per cent from 41 per cent in the previous fiscal ended March 2014. In its home (and the single-largest) market, its portfolio value dipped from 31 per cent to 28 per cent of the total during FY15.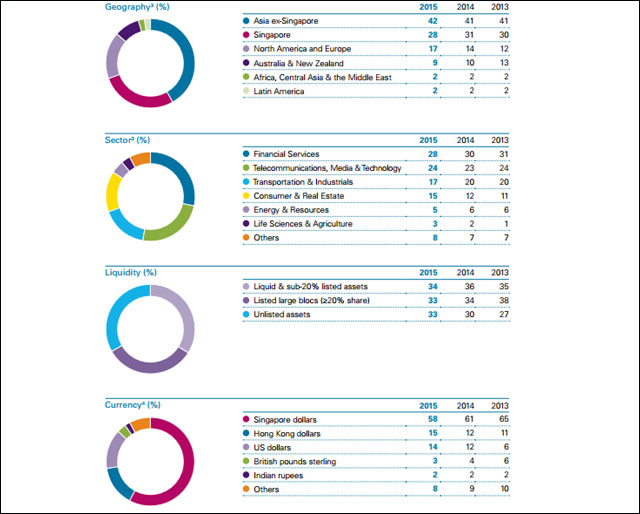 The portfolio value of its investments in Australasia fell from 10 per cent to 9 per cent while in North America and Europe, it rose from 14 per cent to 17 per cent. In the rest of the regions, it remained at the same level.
What is notable is the exposure to private firms. Temasek's portfolio value in unlisted assets rose from 30 per cent during FY14 to 33 per cent. This marks a significant ramp-up considering that as of FY13 it comprised just 27 per cent.
Even though its exposure to financial services dipped from S$30 billion to S$28 billion in FY15, it remains the fund's top sectoral bet. Temasek upped investments in life sciences, consumer and real estate and telecom, media & technology (TMT).
Temasek said one-third of its portfolio is under third-party managed funds.
Temasek India
Temasek, one of the more active sovereign investment funds in India with stakes in some marquee names, has stepped up its activity in the country big time after a sole fresh investment in Tata Sky in FY14.
It invested in Global Health, the owner of the Medanta franchise of multi-specialty, tertiary care hospitals; Intas Pharmaceuticals, a global generics company engaged in the development, manufacturing and marketing of pharmaceuticals formulations; e-commerce platform Snapdeal; retail sector focused data analytics firm Manthan and Cognizant Technology Solutions, a US-listed IT and business process outsourcing service provider with the majority of its operations in India.
More recently it has also bought Silicon Valley Bank's Indian venture debt arm and renamed it InnoVen Capital besides investing in Sun Pharma, Glenmark Pharma; partnered private equity firm Advent to ink a deal tobuy Avantha Group's stake in Crompton Greaves' consumer products business and is on course to invest in property developer Oberoi Realty.