CP Gurnani | Credit: Reuters
Tech Mahindra Ltd has emerged as the best paymaster to its executives for the third time in a row as it offered a total remuneration of Rs 150.7 crore ($24.18 million) to CP Gurnani, its managing director and CEO.
Gurnani, who joined India's fifth-largest software services provider in 2004 and was elevated as MD and CEO five years later, drew a bulk of the remuneration (Rs 147.17 crore) from the value of the stock options. The stock options were granted to him earlier and exercised last year. This means his total remuneration is not a direct reflection of his or the company's performance during the year.
To be sure, his salary and the company's contribution to provident fund together were a modest Rs 2.56 crore.
But, Gurnani's total compensation for the year ended 31 March 2017 trumped the pay packet of the entire boards of TCS, Infosys and Wipro, India's top three IT services firms, as per a VCCircle study on most paid executives at public companies.
"Gurnani joined Tech Mahindra when the company was still a joint venture with British Telecom. He was one of the two employees who were given a generous stock option. The stock price of the firm at that time was just about Rs 30 per share. He successfully turned around Satyam after its merger with Tech Mahindra and the company's share price has grown multifold. The compensation is well deserved," said Kris Lakshmikanth, founder and CEO of executive search firm Headhunters India.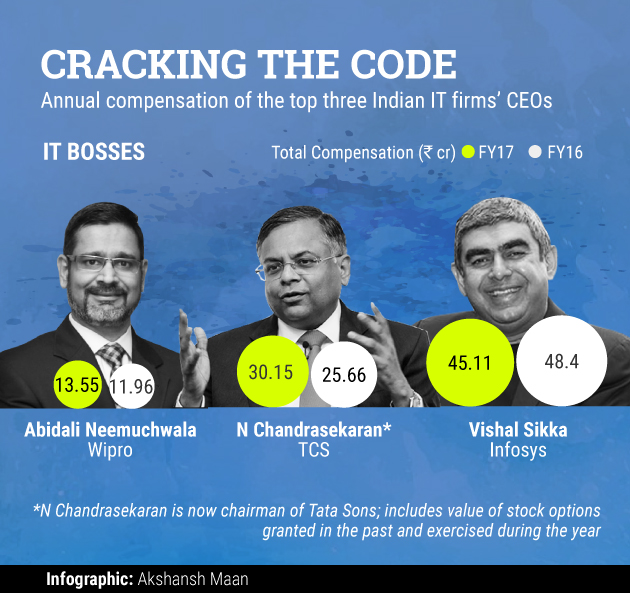 The total compensation of bosses of two of the top three IT firms in India rose. Former CEO of TCS, N Chandrasekaran, who is now chairman of Tata Sons, saw his remuneration rise to Rs 30.15 crore while CEO of Infosys, Vishal Sikka, took a minor pay cut to Rs 45.11 crore after walking home with a 10-fold hike in pay packet in FY2015-16. Wipro chief too got a pay hike.
HCL, the fourth-biggest IT firm, follows a July-June financial year and is yet to give details of its management remuneration.
Meanwhile, Tech Mahindra retained the tag of the best paymaster to its executive. In FY2015-16, it doled out a record compensation of Rs 179.5 crore ($29 million) to Vineet Nayyar.
Nayyar, a former IAS officer who switched to the corporate world three decades ago, retired from the executive role in August 2015 and remains on the board of India's fifth-largest software services firm as vice chairman.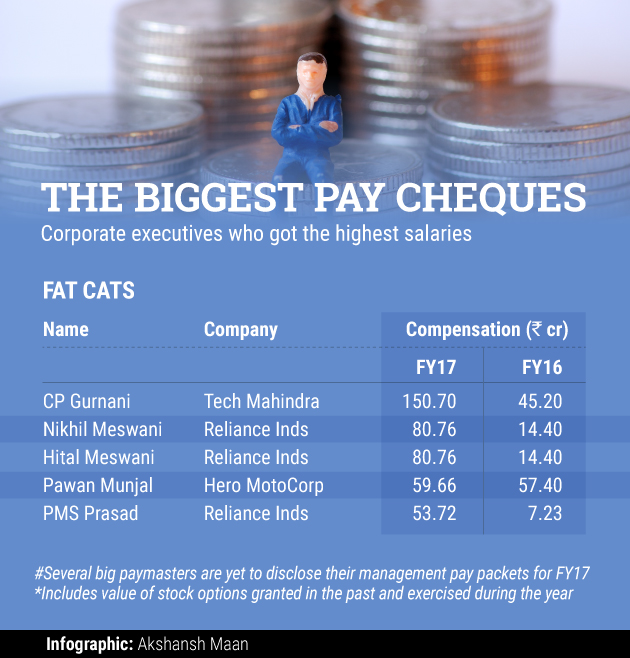 Interestingly, the total compensation that Gurnani received in the last fiscal is also less than the Rs 165.5 crore he himself got in FY2014-15 but far higher than the Rs 45.2 crore he got in the following fiscal.
As of 31 March 2017, Gurnani owned 0.5% stake worth around Rs 191 crore in Tech Mahindra.
Prior to FY2014-15, the highest paid executives of Indian public companies pocketed around Rs 60-67 crore in any given year. Sun TV's husband-wife duo Marans, JSPL's Naveen Jindal etc had pocketed such sums.
There is no uniform disclosure practice for the value of ESOPs being granted or exercised. Several top bankers bag a good chunk of their pay packets through such stock options. However, since FY2015-16 some firms started clearly quantifying the value of such stock options exercised in their annual report.
Akhil Gupta, a Bharti Group veteran who has been exercising stock options of Bharti Infratel in the past and had stayed on as the second-best remunerated executive in a public company for two years running FY2014-15 an FY2015-16, slipped down last year.
While many firms are yet to disclose management compensation for last year, based on the data gathered to date, three executives of diversified firm Reliance Industries catapulted to the top bracket of highest paid execs' list in the country.
Brothers Nikhil and Hital Meswani, who are not counted as promoter directors but are cousins of group chief Mukesh Ambani too figured right behind Gurnani in last year's elite club, thanks to stock options worth $10 million each.
PMS Prasad, CEO of Reliance Industries, too figured among the top five along with Hero MotoCorp chief Pawan Munjal.
One would have to wait for compensation details of Larsen & Toubro and Sun TV to get a definitive picture of the highest paid executives in India Inc.
This would also show if the professionals have maintained the new trend wherein generous stock options allow them to top pay charts.
"Today, stock options have no real meaning. Sikka got a generous stock option when he joined Infosys but not in the same category as Gurnani had received. Besides, most CEOs are not interested in stock option and if they are taking it they want it at a low strike price," Lakshmikanth said.
"For larger companies, the stock option is meant to keep the fixed compensation at a reasonable level and reward those who perform well. Today, a lot of the senior employees are having conversations around wealth creation against just salary," said Shiv Agrawal, managing director at ABC Consultants.
Majority of the highest paid executives of Indian companies tend to be promoters themselves given the dominance of family controlled and managed corporate world. Globally, promoters tend to play a passive role at management while professionals usually run the day-to-day show.