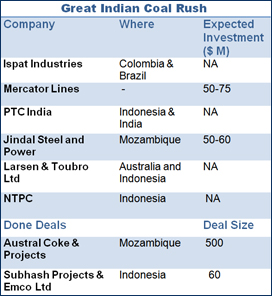 Tata Steel Ltd's global assets holding arm, the Singapore-based Tata Steel Global Holding Pte Ltd, is in talks with private equity players to raise upto $1 billion. The deal could be in exchange for an 8-10% stake in Tata Steel Global, reports Mint. The firm will raise this money via private equity or a private placement of shares, and will use the money to fund the purchase of a coal or iron ore mine.
The sharp rise in raw material prices has forced many Indian firms to look overseas for acquiring foreign mining assets. The deal would put the value of Tata Steel Global, whose assets are - Corus, Tata Steel Thailand, Tata Steel Global Minerals and NatSteel Asia - at more than $12 billion.
Tata Steel's plant in Jamshedpur currently imports a third of its coal needs but is self sufficient in the iron ore requirements. British steel maker Corus depends nearly entirely on imported assets for raw material. The report adds that both Tata and Corus hold reserves to meet just about 20% of their raw material requirements, increasing the cost of steel production. While Tata Steel's standalone raw material security is 80 per cent, it was 22 per cent for the Tata Steel Group in 2007, the company said in its annual report.
According to earlier reports, Tata Steel has identified raw material resources in America, Africa and Australia. "It has therefore become imperative for Tata Steel to aim towards attaining a significant level of raw material security, thereby insulating the company from the forces of the market which is dominated by only a few companies," Baijal said in the annual report.
Because of the rising commodity prices, Indian firms have been increasingly looking to acquire mining assets outside the country. Two Indian companies have already acquired coal mines in foreign countries. Austral Coke acquired a coal mine in Mozambique for $500 million. Subhash Projects & Marketing along with Emco Ltd has acquired a mining block in Indonesia for $60 million. There are other companies who are also looking at acquiring mining assets abroad. (See Table)