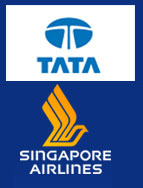 Tata Sons, the holding arm of the diversified business conglomerate, is forming a joint venture with Singapore Airlines Ltd (SIA) to launch a new full-service carrier in the country, almost two decades after a failed attempt to sew a deal with the foreign airline which could have marked a return to the aviation business for the group.
Singapore Airlines has applied to the Foreign Investment Promotion Board (FIPB), the nodal body for approving foreign investment in the country, to form a 51:49 JV with Tata Sons with total initial capital of $100 million, according to a joint press statement on Thursday.
This would be yet another deal in the aviation business after the government opened up the sector to foreign investment. FDI up to 49 per cent is now allowed in the sector.
"The Indian aviation industry is projected to experience future high growth rates. The recent Indian government's decision to allow foreign airlines to invest up to 49 per cent in Indian carriers provides an opportunity for SIA to participate directly in one of the fastest growing and largest aviation markets globally," according to Singapore Airlines.
Details of the airline's branding, management team and services will be announced in due course. But the partners disclosed that the proposed airline will be based in New-Delhi and will operate under the full-service model.
Initially, the board of the airline will have three members— two nominated by Tata Sons and one nominated by Singapore Airlines. The board would be chaired by Tata Sons' nominee Prasad Menon.
Menon said, "It is Tata Sons' evaluation that civil aviation in India offers sustainable growth potential. We now have the opportunity to launch a world-class full-service airline in India."
Menon is chairman of Tata Quality Management Services and also serves on the boards of several Tata companies, including Tata Industries, Tata Chemicals, Tata Projects and Tata Consulting Engineers. He is also on the boards of Axis Bank, SKF and the Sanmar Group.
The IIT Kharagpur graduate has over four decades of experience, working at companies like ICI, Nagarjuna Fertilisers and Chemicals, Tata Chemicals (where he served as managing director), and Tata Power (from where he retired as managing director in January 2011).
The group had practically started aviation in India launching Air India before it was nationalised.
Tatas had previously tried to enter aviation business, again with Singapore Airlines, in the mid-90s but the move was thwarted by hectic lobbying by incumbents. Former group chief Ratan Tata had publicly said he was advised to bribe the then civil aviation minister if he wished to enter the sector.
Ratan Tata, who stepped down as the chief of the multi-billion dollar group late last year, had said earlier that the group is unlikely to enter aviation sector because of what he termed as 'destructive competition'. Given the moves made by the group in the aviation space since the beginning of the year, it appears to have the full backing of the new chief of Tata Sons Cyrus Mistry, who took over last December.
This new proposed JV would be separate from Tatas strategic investment in Malaysian budget carrier AirAsia's upcoming low-fare Indian airline. Tata Sons has 30 per cent stake in this JV with AirAsia holding 49 per cent stake. The balance is held by Arun Bhatia's Telestra Tradeplace Pvt Ltd.
Unlike this venture, Tata Sons is a majority stake holder in the proposed venture with Singapore Airlines. Once both ventures are operational, it would make Tatas a formidable domestic aviation player.
Given that AirAsia's Indian airline has decided to skip some large airports due to airport charges, a strong alliance with Tata-SIA proposed full-service airline would make it a strong player in the market.
What it means for the industry
Currently, the domestic aviation market is led by low-cost carrier Indigo with full-service carrier Jet Airways along with its budget airlines brand Jet Connect close behind. The only other full service carrier in the country is state owned Air India.
The other players—including SpiceJet and Go Air—are all budget carriers. Last year another full-service carrier debt-laden Kingfisher Airlines discontinued its services.
Aviation firms have been facing highly price elastic demand in the country as sky high aviation fuel cost has pushed up costs of operations, resulting in high air fare. Airlines had cut fare for a short period which saw sharp uptick in fliers but with fare rising again, demand is likely to be muted in the upcoming year-end holiday season.
With AirAsia's launch delayed, the incumbents are unlikely to face heat in the next two-three months. But with AirAsia's launch in early 2014 and if Tata-SIA venture kicks off by mid-2014, there could be heavy price competition in the business next year.
As per current norms, Indian carriers cannot fly on international routes before they have completed five years of domestic operations. This could limit the Tata-SIA venture initially to domestic routes. However, there have been talks in the past of doing away with this restrictive policy.
If it is relaxed by the time Tata-SIA launches, the new carrier could look at a big push in the west-bound routes from India while making SIA the boss for east-bound routes.
This would pitch the new airlines head-on against Jet Airways-Etihad alliance as also Emirates, which is currently the largest international flights operator from India. Both have their international hubs in the Middle East.
Amber Dubey, partner and head - Aerospace and Defense at global consultancy KPMG, said the proposed deal affirms India's reputation as a lucrative aviation market in the long run, despite the short-term man-made problems like excessive taxation.
"This will open up competition in west-bound routes from India. Nearly 70 per cent of global traffic from India is west-bound – to the Middles East, EU and Americas. With this JV, SIA gets a play in the growing international travel from India. SIA can also operate direct flights to Far East and Australia from India or route them through Singapore," Dubey said.
He said this venture may also open up for a possible entry into Star Alliance, which may face resistance from other Indian legacy carriers. Another impact would be on Delhi Airport's position as a hub, which will get a boost with both Air India and Tata-SIA using it as a hub for long-haul flights.
(Edited by Joby Puthuparampil Johnson)