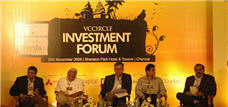 Conservatism, a quality that has come to be much respected after the world saw its worst-ever economic slowdown, is a trait that is in the DNA of Tamil Nadu Inc. The state, which ranks among the top five in India in terms of national income, has often faced criticism for its risk-averse approach. But, in the new world order, conservatism is getting painted by a brush that sees it as being mindful, diligent, accountable and trustworthy.
No surprise then that VCCircle kicked off its Investment Forum in Chennai understanding Tamil Nadu Inc's conservative streak and ways to work around it and benefit from it. The forum, which has brought together investors and seekers of funds and ecosystem players under one roof for a day-long conference, will focus on Tamil Nadu's deal quotient; first generation entrepreneurs and private equity; key issues in deal-making; family business concerns and attractive sectors to invest in.
Is Chennai's conservatism coming in the way? Will the deals here be led by family businesses or new economy sectors? What does it take to get companies in Tamil Nadu across the negotiating table. VCCircle's handpicked panel--comprising Gopal Srinivasan, Chairman & MD, TVS Capital Funds (Chair); Raja Kumar, Founder & CEO, UTI Ventures; C K Ranganathan, Chairman, Cavinkare Ltd; N Kumar, Vice Chairman, Sanmar Group; and C. Venkat Subramanyam, Founder & Director, Veda Corporate Advisors—tried to unravel investing, the Tamil Nadu way.
At 12% of PE deals originating in Tamil Nadu, are entrepreneurs too cautious or are PEs not active enough, Mr Srinivasan said, setting the ball rolling. N Kumar shared thoughts on the mindset of family businesses saying, they are in it for the long-term, very conscious of their reputation and tend to take guarded risks. Elaborating further, he said, "NPAs are lowest in south. Every penny we buy or borrow, we give full returns to that." From the PE side, Raja Kumar said, "we have been investing in TN for last 10 years and we have successfully invested, scaled and exited." Conservatism is a good value to have, he added. First generation entrepreneur C K Ranganathan, who started off humbly to build a Rs 700-crore business, says, trustworthiness in business is very high in the state. Representing the advisory firm community, Venkat of Veda said, taking a parallel from cricket, if you want to find Yuvraaj Singh or Virendra Sehwag, go to Andhra, for Laxman or Dravid, come to Chennai. "Everytime there is a market correction, there is a rush to Chennai," he observes.
Now, the slowdown in PE/VC transactions in the country since early 2008 has also affected the deal in Tamil Nadu. The volume of transactions in the state since January this year has come down to 18 after hitting an annual high of 43 in whole of 2008. On the one hand, it shows capital flow from PE/VC firms has been tight, it also brings hope as the higher number of deals in 2008 could be a sign that companies are opening up to the idea of attracting PE/VC funds as an alternate source of funds besides banks who have turned cautious on lending.
It is time to unravel Tamil Nadu. Watch this space for the total event proceedings report.