Suresh Prabhakar Prabhu is a cricket enthusiast. Handpicked by Prime Minister Narendra Modi to head the controversy-ridden railways ministry, Prabhu relinquished his membership of Shiv Sena—a part of the National Democratic Alliance (NDA)—much to the chagrin of the long-standing ally of the Bharatiya Janata Party (BJP).
Perhaps Prabhu, a qualified chartered accountant, was right in invoking God's name after changing his party, necessitated by BJP's low ministerial bench strength. While presenting last year's railway budget, Prabhu quipped about asking the lord how will the work get done? While Prabhu was keen to get the opportunity, he wasn't expecting the pitch to turn in the very first year of his helmsmanship. Criticised for the railways' safety standards, Prabhu has been made a part of every 'impending' Cabinet reshuffle rumour in the present government.
Given the mandate to clean the alleged corruption in the highest echelons, the 62-year-old Prabhu, who holds a bachelor's degree in commerce and a degree in law, has been fairly successful. As the head of the single largest employer in the public sector with around 1.3 million workforce, Prabhu has sequestered himself from taking financial decisions by empowering the zonal managers to do so.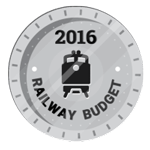 Prabhu has also been among the first off-the-block to emulate Prime Minister Narendra Modi's style of directly engaging with his constituents through social media platform such as Twitter; in Prabhu's case—passengers of the national carrier. Protocol-averse Prabhu has put in efforts to address passengers' grievances in real time; from getting a doctor for an ailing passenger on-board to ensuring police action against miscreants. Tweeting to Prabhu's Twitter team to resolve a problem has become a norm.
"It's not that earlier nothing good was being done in the railways. They were not being talked about. The minister has packaged it very well," said a senior government official requesting anonymity.
Known for his punctuality, Prabhu is not new to the reforms bandwagon. Referred to as the right person in the wrong party, Prabhu was Shiv Sena's face in Atal Bihari Vajpayee-led NDA government. As the power minister, he is credited to be the architect of India's Electricity Act, 2003 which removed entry barriers for private sector participation. Perhaps armed with his exhaustive knowledge of India's power sector, the railways embarked on a plan to reduce cost by exploring a plan to buy stressed projects. In addition, the national carrier which is the country's largest electricity consumer is also calling bids from suppliers and firming up plans for sourcing renewable energy.
President Pranab Mukherjee during his address to the joint sitting of Parliament on Tuesday mentioned the work done by Prabhu's ministry.
"All new coaches are now being fitted with bio-toilets. Focus has also been on doubling, gauge conversion and capacity enhancement works in railways. Commissioning of broad gauge and electrification have been at all-time record levels. The highest ever increase in railway capital expenditure was achieved in 2015," Mukherjee said.
Many believe Prabhu, brimming with ideas, has managed the optics part of the railway ministry well but has a limited attention span. Even as there is a chairman of the Railway Board, too much delegation doesn't work, particularly in this ministry given that most of the heavy-lifting is done by the carrier itself in comparison with other ministries where the states are the primary instruments of doing business.
Prabhu has been a four-time member of Parliament from Maharashtra's Rajapur constituency. Before assuming charge at the railway ministry, Prabhu performed a host of roles in the NDA government ranging from being an adviser for power, coal and renewable energy to being the Prime Minister's sherpa to the G20 summit. Currently, a member of Parliament from Haryana to the Rajya Sabha, Prabhu is pursuing two doctorate programmes—one on economics and the other on climate change.
The railway minister is married to Uma S. Prabhu, a journalist by profession. He has handled Cabinet portfolios such as power, chemicals and fertilizers, industry, environment and forests, heavy industries and public enterprises and was also the chairman of Saraswat Co-operative Bank.
Given his penchant for sports, many believe Prabhu is ready for an interesting innings.