Startups in India see a flurry of merger and acquisition (M&A) deals this year as both raising funds and staying afloat turn harder in what is increasingly becoming a highly competitive, profitability-focused market, shows a VCCircle survey of startup entrepreneurs.
The survey, based on responses from 75 founders of mostly investor-backed startups, was near-unanimous on this question, with almost 71% expecting a consolidation push this year. And this wave of consolidation is expected across sectors, from travel, fashion and retail to ed-tech, fin-tech and health-tech.
Part of the reason fund-raising will get tougher is because venture capital (VC) investors are likely to zoom in even more on profit visibility than "growth" when it comes to writing cheques, a sharp shift from the past when anticipated growth and gross merchandise volume numbers ensured funding, particularly in the e-commerce space. While half the entrepreneurs feel a clear road map to profitability will bring in funding, close to one in three say actual revenues will do the trick.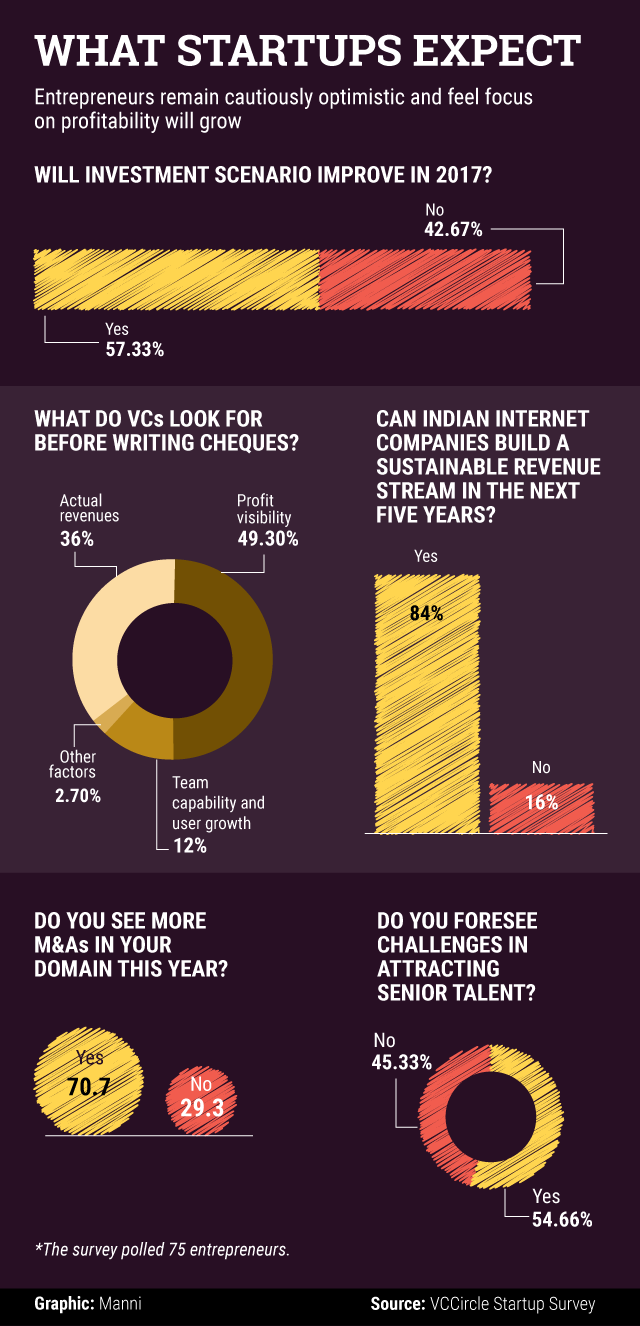 One in 10 entrepreneurs feel investors will focus on team capability and user growth when it comes to backing startups. Interestingly, PE and VC firms often claim that the composition of the founding team is the key factor they look for before loosening their purse strings. "About 75% of our cheques are on passion," Rehan Yar Khan, managing partner at Orios Venture Partners, had said at the News Corp VCCircle Startup Summit 2017 in Mumbai last month.
Overall, the mood is optimistic—as many as 6 in 10 entrepreneurs see the investment scenario improving this year, which is in line with what private equity (PE) and VC firms feel. A VCCircle survey conducted last month showed that almost two in three senior PE professionals and three in five VC executives expected dealmaking to improve this year.
Attracting senior talent, however, will be a challenge as startups find it tough to offer the steep salaries they used to dole out on the back of generous funding and eye-popping valuations.
The majority of entrepreneurs believe India's consumer internet market is mature enough to build a sustainable revenue stream over the next five years. While 84% said it offered enough opportunities, the rest there was a need to tap international markets to create a defensible top line.