SoftBank Group Corp has inducted Rajeev Misra into the company's board of directors, the Japanese telecom and Internet conglomerate said in a statement.
Misra will be the second Indian-origin executive to join SoftBank's board, after former Google executive Nikesh Arora, who quit the firm last year.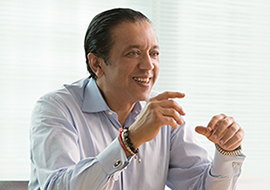 Misra's appointment, however, is subject to the approval of SoftBank's shareholders. The shareholders' annual meeting will be held on 21 June, SoftBank said.
Misra is the chief executive of SoftBank's $100 billion tech-focussed Vision Fund. His elevation comes just a week after the Japanese conglomerate announced the first close of the Vision Fund at $93 billion.
The Vision Fund is also backed by Saudi Arabia's main sovereign wealth fund. Its other investors include Abu Dhabi's Mubadala Investment, which has committed $15 billion, Apple Inc, Qualcomm, Taiwan's Foxconn Technology and Japan's Sharp Corp.
Misra, 54, is a debt trading veteran. He had joined SoftBank in 2014, after leaving global investment management firm Fortress Investments Group LLC, where he had worked for less than a year. He was appointed the CEO of the Vision Fund last year.
He was a senior managing director and partner at Fortress Investment. He has also worked at UBS, where he was global head for fixed income, currencies and commodities between 2009 and 2013. Before that, he spent more than 10 years at Deutsche Bank as its global head of credit and emerging markets.
Misra is an independent director on the board of Eros International Plc, the holding company of the Indian movie production and distribution company Eros International Media Ltd.
Misra graduated in mechanical engineering from the Indian Institute of Technology, Delhi, after completing his schooling from Delhi Public School, Delhi. He also has a master's degree in computer science from the University of Pennsylvania and an MBA from MIT Sloan School of Management.