Reuters | Credit: Reuters
Softbank Group Corp had quietly started a formal search for a head of its big—and troubled—India bets even before the sudden announcement of president and chief operating officer Nikesh Arora's departure from the Japanese company, a person familiar with the matter said.
Arora, who was tipped to be the successor to SoftBank CEO Masayoshi Son, resigned as Son wanted to remain at the helm for a few more years, the telecommunications and Internet conglomerate said on Tuesday.
The India-born former Google executive had led SoftBank's investments in India. While he has said he will continue to work with startups in India, his exit has led to worries in certain quarters over the Japanese company's strategy to invest in startups in the country.
However, the person cited above told VCCircle that SoftBank has been scouting for an India partner to take care of its investments in the country and that it has given the mandate to the executive search firm Egon Zehnder.
A spokesperson for Egon Zehnder did not respond to an email seeking comment while a spokesperson for SoftBank India said: "We never comment on internal moves and/or speculation."
SoftBank, in fact, had hired another executive search firm Hunt Partners last year to build an India team.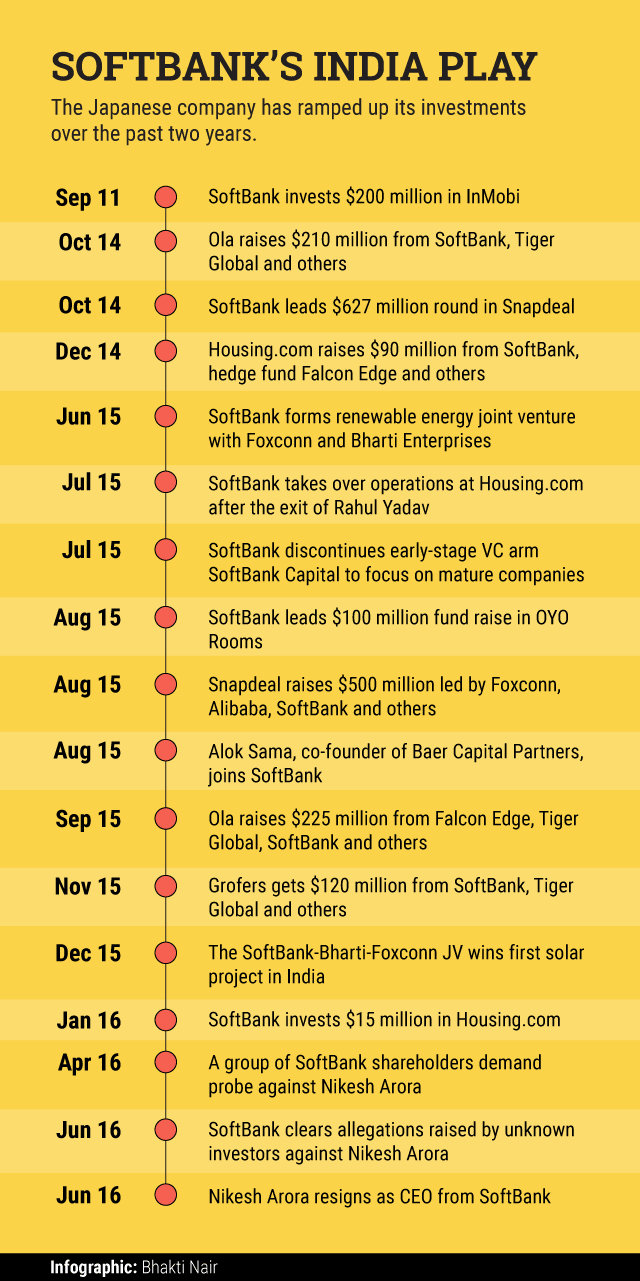 The company has also recruited a number of Indian executives in key positions in the past. Baer Capital co-founder Alok Sama is chief financial officer at SoftBank Group International and former LinkedIn executive Deep Nishar heads international investments.
India is an important market for SoftBank. Apart from its current investments, the Japanese conglomerate has also committed to invest $10 billion over 10 years in the country. It has an ambitious plan to invest in India's renewable energy projects through a three-way joint venture with Foxconn and Bharti group.
Arora's bets, investors' ire
Arora's exit announcement came just a day after the SoftBank board gave a clean chit to him on allegations made by a group of investors on a range of issues including purported conflict of interests between his personal investments and associations and that of SoftBank.
Arora, immediately after joining SoftBank in 2014, turned his focus on the Indian startup ecosystem and led the Japanese investment giant's high-profile entry into India. He spearheaded nearly a billion-dollar investment across online marketplace Snapdeal, cab aggregator Ola and realty portal Housing in late 2014 and briefly held board positions in these companies. SoftBank later funded Oyo Rooms and Grofers, taking its total investment in the country to around $1.6 billion across half a dozen young companies.
SoftBank led a $627 million round in Jasper Infotech Private Ltd, which runs Snapdeal, and $210 million in ANI Technologies Private Ltd, which runs Ola. This was followed by leading a $90 million round in Locon Solutions Private Ltd, the firm behind Housing.com.
Subsequently, SoftBank invested in Snapdeal again as part of $500 million round. It made two more fresh investments in 2015; it led a $100 million round in hotel booking site Oyo Rooms (Oravel Stays Private Ltd) and $120 million Series D round in online grocery delivery startup Grofers, run by Locodel Solutions Private Ltd. It also offered $15 million in a bridge round to Housing.com early this year.
A few of these companies are now facing rough weather, prompting some SoftBank investors to question Arora's acumen to lead the Japanese conglomerate. Earlier this year, a group of unknown investors shot off a letter to the SoftBank board questioning some of these deals.
These investors alleged that Arora held a personal stake in Snapdeal while leading SoftBank's investment in the Indian e-commerce firm. They termed the deal a 'rushed transaction'.
Arora faced flak for poor business decisions particularly for the large early-stage investment in Housing.com, a college startup founded by a dozen IIT Mumbai batchmates in 2012. Barely eight months after SoftBank putting money into Housing, it had to fire its CEO for improper conduct and take over management control for a brief period.
Oyo Rooms, too, is facing questions on its business model and growth. Grofers shut operations in nine cities in January this year.
Arora's biggest bet in India, Snapdeal, is now seen trailing global giant Amazon and home-grown rival Flipkart while Ola faces stiff challenge from Uber Inc.
Following investors' demand for an internal probe early this year, SoftBank had initiated a review by a group of independent directors on its board that cleared him of any wrongdoing.