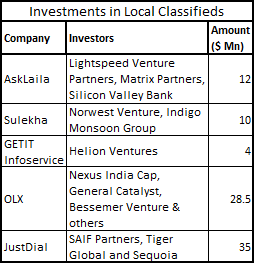 Sequoia Capital India has picked up a stake in Mumbai-based local search firm Just Dial Pvt Ltd for Rs 40 crore (~$8 mn). The Silicon Valley headquartered  venture capital firm has picked up a little less than 10% stake from an early investor in a secondary deal. Sandeep Singhal, Managing Director, Sequoia Capital India, will join the board of Just Dial.
The investment has been made from Sequoia's $300 million venture capital fund, which the company raised in 2007. Sequoia manages over $1.8 billion in capital for India investments.  
Just Dial earlier raised funding from Asia focused private equity fund SAIF Partners and US-based hedge fund Tiger Global Management. It raised Rs 50 crore from SAIF in 2006, followed by a Rs 77 crore investment by Tiger in 2007. SAIF and Tiger, which hold over 20% stake each in the firm, have also picked up additional stakes in the secondary deal. 
Just Dial achieved revenues of Rs 91 crore in FY09, and expects to reach Rs 130 crore this year.
The local listing space has attracted interest from both corporates and investor community. In December '08, internet giant Yahoo acquired a 30% stake in Chennai-based Network Management Co. Pvt. Ltd, which owns the telephone-based directory search service Call Ezee. Another corporate active in this space is Television Eighteen India Ltd (TV18), which acquired Infomedia18 from ICICI Venture in 2007.
Other venture-backed players in this space include AskLaila of Four Interactive (Lightspeed, Matrix and SVB), Sulekha (Norwest, Indigo Monsoon) and GETIT Infoservices (Helion Ventures). The most recent deal in this space was Nexus India Capital's $5 million investment in New York-based classifieds firm OLX, which has a presence in markets besides India like Portugal, Mexico, South America and China.
Though there is competition in the space, especially on the web, but Just Dial is unique in offering services over the phone, said Sandeep Singhal of Sequoia. Its services are available on call, through SMS, and also on internet. Singhal believes that Just Dial has a strong connect with the consumers. 
Just Dial claims to have over a 90% market share in the local search space. The firm reaches to 400 million mobile customers across 240 cities and 40 million user on the internet. Just Dial, which was founded by VSS Mani in 1994, caters to over 25 million unique users and over 200 million searches in a year. 
The company also forayed into print, but is now pulling out as it didn't work out. "We did that as we were looking at widening our revenue base, and there were some of our customers who were targeting print ads," said Mani. 
Just Dial plans to now focus on offering local information through online and technology enabled services.  For starters, it's planning to launch its classifieds pages by first or second quarter of next year, which Mani says "will be mother of all classifieds." It's also planning to foray overseas with local search in the US.