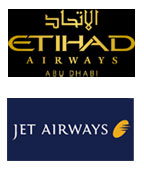 The securities market regulator SEBI, which had previously sent a show cause notice to Etihad and Jet Airways in relation to their deal last year to explain if the Abu Dhabi-based airlines has joint control over Jet, has ruled in favour of the carriers. The decision absolves any potential liability of the Gulf carrier to make an open offer to shareholders of Jet.
The deal, announced a year ago, where Etihad decided to pick 24 per cent stake in Jet Airways through a preferential allotment, was executed late last year.
However, SEBI had revisited the case questioning the firms on the basis of a note made by Competition Commission of India (CCI) which pointed that it leads to joint control of Jet. CCI had, however, said the deal is not anti-competitive in nature.
SEBI's take on the case was crucial as its interpretation would have made it mandatory for Etihad to go ahead and make an open offer to public shareholders of Jet. Even as Etihad had picked less than 26 per cent stake, the trigger point for an open offer, the takeover code is based on the notion of 'control'. If Etihad's agreement with Jet showed that it had joint control of the firm it would have had to make an open offer.
The carriers had in their previous replies to SEBI argued that CCI's note was with respect to its own statute and applies to an entirely different context as opposed to the definition of control for the purposes of takeover regulations. They added that the term 'control' under the Competition Act has a much lower threshold than that of the takeover regulations.
Moreover, they agreed to modify certain clauses of the commercial cooperation agreement to clear the air on joint control. In particular it frees Jet from any restriction to enter into any similar global frequent flyer programmes as Etihad; Etihad's right to recommend candidates for senior management positions within Jet has been deleted; Abu Dhabi is no longer an exclusive hub for Jet flights flying towards Africa, North America, South America and UAE; the right of Etihad to take lead in negotiations on aircraft and engine purchases has been replaced by reciprocal arrangements that are subject to the approval of the board of Jet and/or Etihad.
In addition, the cooperative arrangements can also be extended to other third-party carriers with whom Jet/Etihad has similar arrangements or an equity investment subject to the approval of their boards and the schedule detailing the governance and deadlock procedure has been deleted.
(Edited by Joby Puthuparampil Johnson)