The number of deals in the restaurant space so far this year almost matched the number of transactions announced annually in the three years before 2015 when private equity investors made a splash to tap into the Indian consumers' increasing tendency to eat out.
A total of nine deals were struck in the January-August period of this year against 21 last year when the number of transactions peaked, according to News Corp VCCEdge, the data research platform of News Corp VCCircle. However, despite the slump, the number of deals this year is close to the 10 deals that were announced each year during the period from 2012 to 2014.
"Going back five years in time, the food space was mainly dominated by MNCs, including McDonald's and KFC," noted Tarun Khanna, partner at CX Partners, a sector agnostic private equity firm that has also been investing in the consumer sector. But gradually, over the years, private equity investors have been pouring money into the food space as it is less discretionary than say apparel, he said.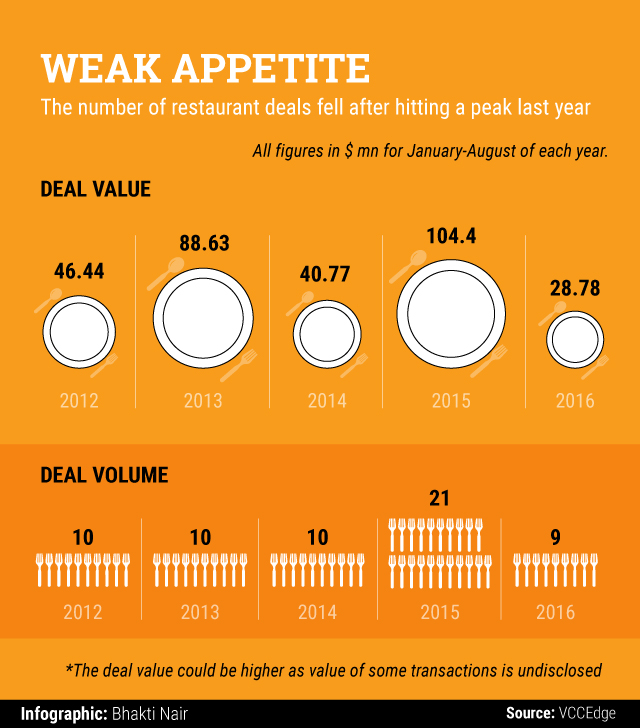 "Therefore, if you look at the overall trend over the last five years in the food space, it is actually moving upwards. So there may be a year when the number of deals may be more or less same but generally the trend is positive," said Khanna.
Deepak Shahdadpuri, managing director, DSG Partners Asia, and an angel investor, said while the restaurant industry continues to grow, only a few PE investors have had exits and realised cash distribution from the sector over the last few years, leading to a fall in the number of new deals.
"However, with growing GDP and higher discretionary spend in the pockets of Indians, eating out will continue to be a growth sector. We will see more deals over the next 18-24 months as investors look at the fundamentals and growth trajectory," said Shahdadpuri, who has been investing in the sector for over 10 years.
India's food and beverages (F&B) industry is expected to grow at an average annual rate of 24% to Rs 3.8 trillion in sales by the end of this financial year as Indians spend about half of their total consumption expenditure on food, according to a report by consulting firm Grant Thornton India and Federation of Indian Chambers of Commerce and Industry (Ficci).
CX Partners' Khanna said while a significant portion of private equity investment is being focused on the consumer space, most funds will flow into the food verticals that have the ability to scale up.
"PE investors make money through scale and within the food sector what can be scaled is QSR (quick service restaurants) and casual dining," he added.
Fast-food joints, which have the largest market share at 45%, is expected to grow by 16.6% a year, followed by casual dining, which has a market share of 32%, by 10.1% a year, according to the Grant Thorton India-Ficci report.
The biggest investment during the January-August was in Big Fish Ventures, a Delhi-based startup that runs premium dining lounges such as Vault Cafe and GaramDharam. Unidentified investors brought in a total of $11.13 million in the company, according to the VCCEdge data.
Like this report? Sign up for our daily newsletter to get our top reports.