The upper house of the parliament on Thursday passed the long-pending Real Estate (Regulation and Development) Bill 2015, paving the way for setting up of regulatory bodies to monitor projects and bring transparency and accountability in real estate transactions.
The bill aims to empower home buyers, make developers accountable towards their promises and put in place mechanism to check malpractices in the sector. The law is of immense value to home buyers who have long suffered with builders changing project plans without the consent of buyers or diverting funds from one project to another. 
"This is a major reform that promises to bring in much-needed transparency and accountability to the rather opaque sector. It will create a much-needed consumer right protection umbrella for buyers of real estate, thereby increasing consumer confidence as well as creating lasting developer brands strong on quality and timely delivery of their projects," said Anuj Puri, chairman and country head, JLL India.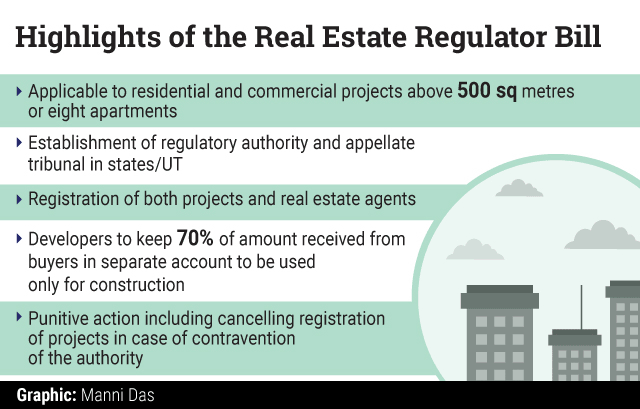 The bill's chief objective is to set up regulatory authority on the lines of other sectors like banking and telecom and also form appellate tribunals in states and union territories. The authority will appoint abjudicating officers to settle disputes, which will be taken up by the appellate tribunal.
The regulator will work as a nodal agency and co-ordinate efforts regarding development of the sector with key stakeholder and the government.
Among other key features, all projects including commercial and residential starting from 500 square metres or eight apartments are to be registered with the regulator, against the earlier mandate of 1,000 square metres or 12 apartments. It will be applicable retrospectively across ongoing projects too.
However, in a discussion on the bill in the parliament, Union Urban Development Minister Venkaiah Naidu said clarity is yet to emerge if the current framework will be applicable on ongoing projects as well. He also said state governments have the flexibility to lower the project size threshold for mandatory registration.
All real estate agents who intend to sell plot, apartment or building also have to register with the regulator.
With a view to promote timely completion of projects, the bill makes it compulsory for developers to keep at least 70 per cent of customer advance, including land cost in a separate escrow account, to meet construction costs. This is up from the previous requirement of 50 per cent.  
The government has also brought in parity on interest payment in case of default. Now, builders will have to pay same interest as home buyers in case of default or delays—earlier home buyers were accountable for this. It has also increased the liability of builders from two years to five years in case of structural defects.  
In case of violation of orders of the appellate tribunal, builders will be charged with three years of imprisonment while agents and buyers will have to face one year of imprisonment or monetary penalty or both. It also advocates that disputes should be resolved within 60 days.
Impact
Anshuman Magazine, chairman and managing director, CBRE South Asia Pvt Ltd, said it will have a far reaching implication for the real estate and construction sector. "It will help regulate the sector and promote transparency. If implemented in the right spirit, it could facilitate greater volumes of domestic as well as overseas investment flows into the sector. Home buyer confidence in the property market is also likely to revive."
Experts believe that this will go a long way in reviving the confidence of home buyers. Sales in housing market has softened over the years as end users and investors have stayed away due to high prices and unchecked construction delays in the sector. This has taken the unsold stock to an alarming level with some cities sitting on a huge pile-up of inventory.
The bill aims to boost the confidence of home buyers with more transparency and accountability from the developers.
JC Sharma, vice chairman and managing director at Sobha Ltd, said this is a step in the right direction. But he added that the bill made no mention of time-bound approvals by various central, state and local agencies, which is critical to the sector's growth.
It is expected that developers will also benefit once the law is implemented as they can access cheaper and wider source of financing. However, on the other side, it will also gradually weed out a lot of fly-by-night and non-serious players from the market.