The efficacy of Raghuram Rajan's policy moves as the governor of the Reserve Bank of India (RBI) has been a subject of intense debate. He, however, will be remembered more for his incisive, if controversial, remarks that often had little to do with interest rates or inflation.
In fact, Rajan's comments beyond his brief often made more news than his initiatives as the governor of the central bank. Rajan wasn't the first RBI chief to have had run-ins with the establishment in Delhi, but never before had the utterances of a central bank chief attracted such media scrutiny, especially from the non-business press.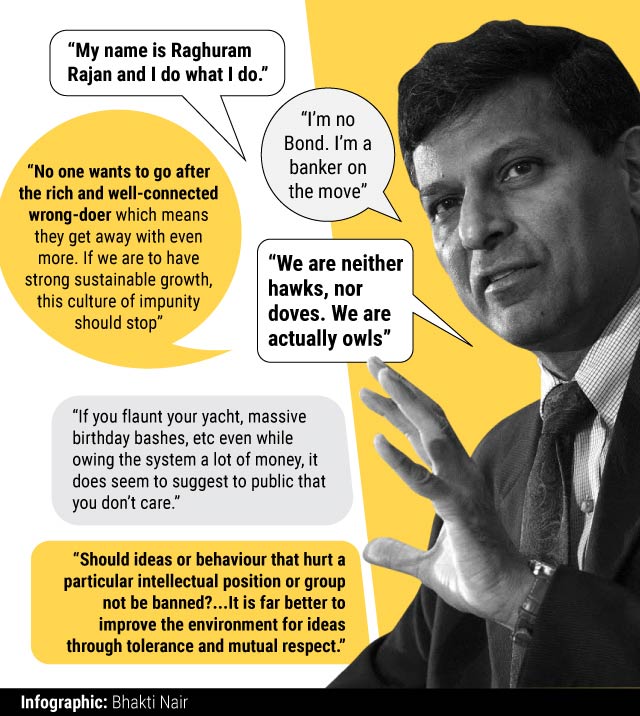 His critical comments on 'Make in India', the flagship initiative of the Narendra Modi government, and on the issue of religious intolerance, certainly did not go down well with sections within the government, the Bharatiya Janata Party (BJP) and the Rashtriya Swayamsevak Sangh (RSS).
In fact, soon after Modi took office as the Prime Minister, Rajan waded into the issue of crony capitalism, saying that it "created oligarchies" that hindered growth. "One of the greatest dangers to the growth of developing countries is the middle-income trap, where crony capitalism creates oligarchies that slow down growth. If the debate during the elections is any pointer, this is a very real concern of the public in India today," he said in August 2014.
Moreover, when the Modi government went to town tom-tomming the fact that India was one of the fastest growing large economies, Rajan did not seem to make much of that. "India is the fastest-growing large economy in the world. But as a central banker, I cannot get euphoric with India's economic growth rate as it is at the cusp of a substantial pick-up in growth. I see scope to grow faster, given the capacity utilisation and agricultural output," Rajan said, causing more than a flutter and a sense of unease in North Block, which houses the finance ministry.
This friction, perceived or real, eventually led to several allegations, prompting him not to seek a second term.
And he did not stop at that, and came down scathingly on loan defaulters around the time businessman Vijay Mallya left the country, allegedly to evade law enforcement agencies who were on his trail after his companies, including Kingfisher Airlines, defaulted on loans worth thousands of crores.
Even as he leaves office, Rajan remains his outspoken self. In a television interview last week, he said that he had wanted to stay on at the RBI for a while longer to complete his "unfinished task," but could not because he wasn't able to reach the "right kind of agreement" with the government.
Did his outspokenness cost Rajan a second term? The jury is still out on that.
Like this report? Sign up for our daily newsletter to get our top reports.