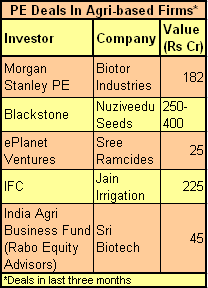 Rabo Equity Advisors, the agriculture and food sector focused private equity firm, has announced its debut investment. The firm said it would invest Rs 45 crore in Hyderabad based agri-biotech firm Sri Biotech Laboratories India Ltd. Sri Biotech is is involved in manufacturing and marketing of bio-organic agri inputs which are used for crop nutrition and crop protection. It also produces seeds, multi micro nutrients and biologically enriched organic manures.
Rabo Equity has subscribed shares through compulsarily convertible preference shares (CCPS), which will be converted based on profits for '09. Rabo Equity is picking up a stake between 28-38% in Sri Biotech. The investment has been made from the India Agri Business Fund of Rabo Bank, which had announced its first close of $85 million in July last year.
The company's main focus is on Integrated Crop Management focusing core areas of crop improvement through sustainable approaches. Sri Biotech was founded by Dr K R K Reddy in 1994 and in the last 3 years the sales have been growing at 115% CAGR. Its products are sold through a dealer network in the states of Andhra Pradesh, Karnataka, Tamil Nadu, Maharashtra, Gujarat and Madhya Pradesh. Sri Biotech will now look at expanding to other states and the export market, besides strengthening its network in existing states.
The funds will be used to strengthen in-house R&D focusing seed research, development of new molecules of crop protection and infrastructure.
"Sri Biotech has witnessed rapid growth over the last few years and has become a market leader in biological and organic agri inputs. We are excited about partnering with Sri Biotech which has successfully commercialised both in-house technologies and those developed in various National Institutions of CSIR and ICAR," said Rajesh Srivastava, Chairman & Managing Director, Rabo Equity Advisors.
Investment in companies involved in agriculture related activities is increasing as it's a counter-cyclical sector that will not see a slow down in demand as the global economy slides. Past three months have seen announcement of five deals in this space (see table).