Private investment in companies plunged by over two-thirds in the last quarter as private equity (PE) firms continued to be wary of betting on mid-large sized firms and venture capital (VC) firms slowed their pace after a euphoric 2015.
Capital invested by angel investors, VCs and PE firms in India declined to $2.3 billion in the quarter ended September 30, against $6.3 billion over the corresponding period last year, according to the Quarterly Deal report by News Corp VCCEdge, the data and analytics division of The VCCircle Network. The number of deals dropped to 258 against 469. This marks a 45% decline in the number of transactions and a 63% drop in the announced value of investments.
The value of deals was also down sequentially when compared to the April-June 2016 period.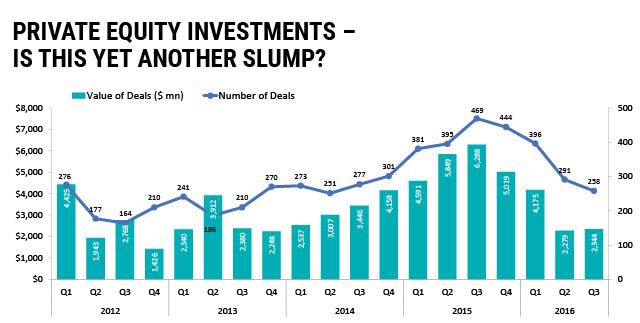 While the value of investments declined significantly across all investor types, angels and seed funds seem to hold out hope. Even as the number of angel and seed deals declined compared to the peak of last year, at 152 it is the second best in the third quarter of any calendar year.
Angel and seed deals shrank by a modest 8% compared to around 38% drop in both VC and PE deals in the January-September period this year.
This shows that first cheques for startups have seen a marginal decline but new ventures are still getting initial funding support this year. Startups looking to raise next round of funding from VC firms, however, continue to face a severe crunch. 
VC investments had started slowing in the last quarter of 2015 as startup valuations hit the roof and investors started asking questions on the lack of visibility on profits. As several ventures failed to hit user traction targets, it spelled further trouble and next round of funding started getting stretched leading to startups shutting down.
Coupled with shutdowns and valuation mark downs, capital flow started drying. This became more entrenched through the first nine months of 2016.
Looking at the sectors attracting private capital, technology at large continued to attract investors. IT sector, led by tech startups, recorded 156 deals during the quarter. Though significantly lower than the 258 deals struck last year, the sector accounted for over half of the private investment deals last quarter.
It also saw a sharp decline in the value of investments over the year-ago period but pipped consumer discretionary as a sector to corner the highest amount of investor money.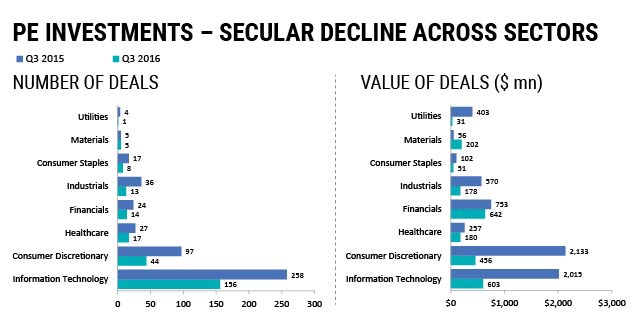 Healthcare, financial services and industrials were the other key sectors recording private investment deals last quarter.  These three also accounted for bulk of the money invested by the private investors behind technology and consumer discretionary firms.
The biggest private investment deals last quarter involved messaging app Hike getting $175 million from China's Tencent, Taiwan's Foxconn and other investors; UK's CDC betting $150 million in the non-banking financial arm of IIFL Holdings Ltd and PE firm TA Associates' $140 million investment in womenswear label W.
M&As
M&A deal-making too declined with 232 deals announced in the three months to September 30. This marks an 8% decline compared to the same period last year, largely because of waning appetite of multi-national companies to buy Indian firms.
Inbound M&A volume declined more than a third while domestic and outbound deals (Indian firms acquiring overseas assets) too shrank a tad.
However, the value of M&As shot up last quarter due to one large merger transaction between private insurers HDFC Life and Max Life, which skewed the data.
Domestic deals continued to dominate, constituting two-thirds of total M&A transactions announced last quarter.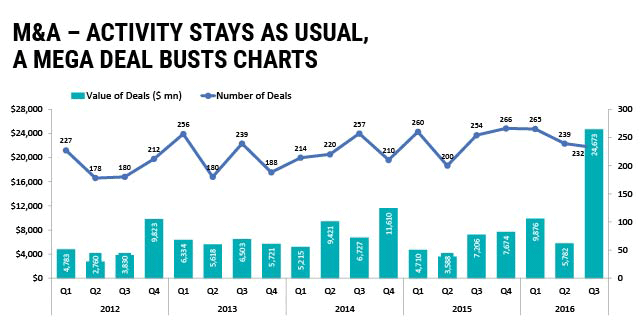 In terms of sectors, IT again dominated the M&A charts, accounting for one in three deals last quarter. Consumer discretionary, industrials, financial services and healthcare rounded off the top five sectors reporting M&A activity.
In terms of value of M&A deals, the merger between the two private insurers skewed the charts in favour of financial services space, which trumped technology, materials, healthcare and consumer discretionary.
Download the full report here.
Like this report? Sign up for our daily newsletter to get our top reports.