If you have just entered the high net worth (HNI) club and thinking of buying or just investing in a property, you might like to take a look at these cities. Real estate consultancy firm JLL India has come out with a list of 20 sub-markets which are competing with legacy locations in attracting the younger lot of HNIs.
Limited supply in prime locations has resulted in emergence of these markets as hot spots of luxury homes. These sub-markets offer the lifestyle, status and address value HNIs want to be associated with, the report says.
Here is a look at the micro-markets and price range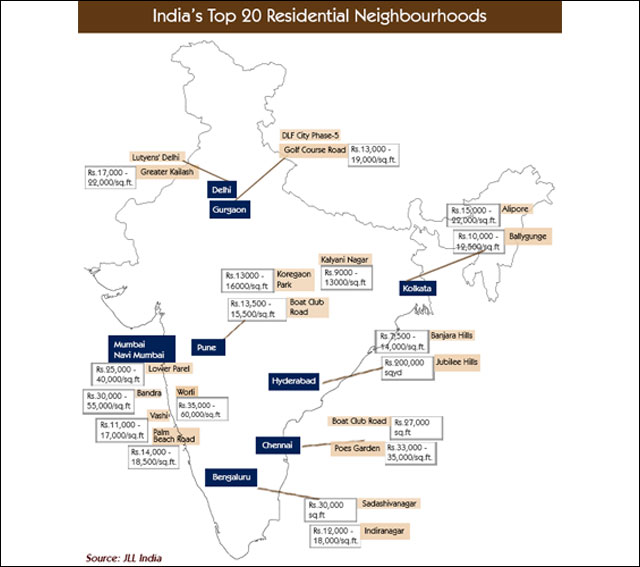 While some of these locations have long been associated with the rich and powerful, a good chunk has managed to emerge to the top.
While there is a general slowdown in sales activity, this has not affected the buying activity of HNIs and ultra HNIs for obvious reasons. Recent studies and the report suggest that while new launches have dropped for other segments of housing, there was a rise in launch numbers for high-end segment properties.
In the financial capital of India, prices have not kept buyers who want to own and can afford luxury residences away. Some of the locations which were not on the list of HNIs—for example, south central Mumbai—have made their way to the top and now have quite a few projects catering to the upper end of the social strata.
Another important market, Pune has maintained its momentum and is the only city to throw up healthy numbers apart from Bangalore. It has emerged as a top retirement destination and is equally fueled by youth power with jobs being created across IT/ITeS, manufacturing, etc.
The Silicon Valley of India, Bangalore, has one of the most vibrant luxury housing markets apart from maintaining a healthy momentum in other segments. This is attributable to the rapid pace of urbanisation, influx of global lifestyle and growth of services industry.