Finance Minister Arun Jaitley significantly pushed up the budgeted allocation for healthcare expenditure in the coming year while unveiling a new health insurance scheme and talking about a programme for dialysis services, but the sector at large was disappointed by the Union Budget.
Among the key takeaways is that the government has raised the budgeted allocation for the sector to Rs 39,533 crore. This marks a 13 per cent rise over the revised planned public expenditure for 2015-16 and an 18.7 per cent rise over the budgeted estimate for the current year.
Healthcare industry captains, however, wanted a much bigger hike and hoping that India's public health expenditure, which is currently at about 1 per cent of GDP compared with 3 per cent in China and 8.3 per cent in the US, be raised to at least 2 per cent.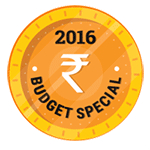 "Budget 2016 has once again neglected the overall development of the healthcare sector. For a sector that has an intense demand supply gap, the finance minister has given a cursory attention. While the outlay has been increased to Rs 39,533 crore the path towards a healthcare spend to 2-2.5 per cent of GDP has still not been articulated," said Vishal Bali, former CEO of hospital chain Fortis who now serves as Asia Head (Healthcare), TPG Growth, besides being a co-founder of a home healthcare venture Medwell Ventures.
Healthcare insurance scheme
Meanwhile, the government took off from where it left last year when it gave higher tax exemption for medical insurance, by announcing a new health protection scheme which will provide health cover to BPL families—constituting one-third of India's population—of up to Rs 1 lakh per family. For households with senior citizens, he provided a top-up package of up to Rs 30,000.
"With this scheme, the existing health coverage limit for BPL families (Rs 30,000 under Rashtriya Swasthya Bima Yojana) has been significantly increased. This will boost health insurance penetration which is currently under 5 per cent and mostly restricted to urban areas," said Ashish Mehrotra, CEO and MD, Max Bupa Health Insurance.
"The Budget is, however, silent on the agenda of universal healthcare coverage which has been often discussed by the government and required a policy direction," Medwell's Bali noted.
The government also plans to exempt service tax on general insurance services provided under 'Niramaya' Health Insurance Scheme launched by National Trust for the Welfare of Persons with autism, cerebral palsy, mental retardation and multiple disability.
Dialysis in focus
The highlight of the Budget for the healthcare sector was the proposal to start a programme to provide dialysis services in district hospitals. The government noted that about 2,20,000 new patients of end-stage renal disease get added in India every year with every dialysis session costing about Rs 2,000—translating into an annual expense burden of more than Rs 3,00,000 for patients.
Funds for the National Dialysis Services Programme will be made available through the PPP mode under the National Health Mission.
The finance minister also proposed to exempt certain parts of dialysis equipment from customs and excise duty.
"The government is addressing both the problems for dialysis patients of India—accessibility and affordability—at the same time," said Saurav Panda, CEO, Sparsh Nephrocare, which runs a chain of dialysis centres in tier II and III cities of the country.
Generic drugs
The Budget has also proposed to increase the supply of generic drugs under the government's Jan Aushadhi programme that supports selling of generic medicines at affordable prices through special stores, government hospitals and private retailers. Jaitley said 3,000 such stores will be opened during 2016-17 under the programme.
Medwell's Bali, however, pointed that although the 3,000 stores under the programme is the start of a good initiative, what is needed is a structure where the various social healthcare schemes of the government, are brought under a single umbrella for higher accountability and reach. 
Push for medical technology
"The government has validated its intent through Budget to promote startup mindset in the country," said Saurabh Arora, founder and CEO, Lybrate, a marketplace to help patients consult doctors through video, voice and text.
"Proposals like 100 per cent deduction of profits for three out of five years for startups established during April, 2016 to March, 2019; lowering to two years the period for getting benefit of long-term capital gain regime in case of unlisted companies from the current three years; and making every bank branch to facilitate at least two projects under 'Standup India Scheme' are aimed at encouraging more entrepreneurial ventures in the country," he said.
"India's medical technology sector will hopefully benefit from the tax holiday for startups for three out of five years and encourage innovation driven healthcare technology companies," Medwell's Bali added.
Little for biotech, pharma and medical devices
While the government took a step to widen health insurance programme, most of the industry's demands covering incentives for the pharmaceuticals, biotechnology, hospitals and medical devices segments went unfulfilled. Besides, the long-standing demand for granting infrastructure status to the industry was ignored.
"Given the rightful boost to infrastructure in the Budget, this was the opportune time for the finance minister to call out healthcare as a priority sector and give it infrastructure status," Medwell's Bali said.
Some proposals sprinkled in the Budget to help these sectors include a proposal to amend section 35AD of the Income-tax Act so as to reduce the deduction from 150 per cent to 100 per cent for building and operating hospitals with effect from April 1, 2017.
The government has also proposed to exempt service tax with effect from April 1, 2016 on services provided by Biotechnology Industry Research Assistance Council (BIRAC) approved biotechnology incubators to incubatees.
Besides, the proposal of a concessional tax at 10 per cent on royalty earned from patents developed and registered in India will contribute indigenous R&D activity in healthcare sector, said Murali Choudhary, associate director, BMR & Associates.
The government has also proposed that basic customs duty on import of Medical Use Fission Molybdenum-99 by Board of Radiation and Isotope Technology (BRIT) for manufacture of radio pharmaceuticals be exempted.