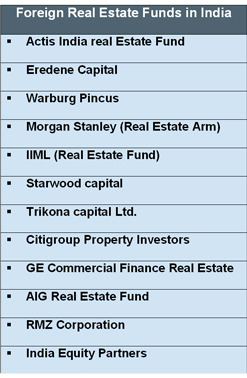 Merrill Lynch & Co.(MER) has raised $ 2.65 billion for a new Asian real estate fund. Merrill's Asian Real Estate Fund will look at a variety of investments, including direct real estate assets and real estate companies. The fund has a focus on Japan, China, South Korea and India and a secondary focus on Australia and Southeast Asia.
"We see exceptional opportunities in Asian real estate over the medium and longer term," Tim Grady, Managing Director and Head of Merrill Lynch Pacific Rim Global Commercial Real Estate, said in a statement.
The fund's investors come from pension funds, endowments, foundations and private individuals in North America, Europe, the Middle East and Asia.
Merrill Lynch has been investing in the Indian realestate for quite some time now. It has invested Rs 1,481 crore or $377 million in its seven housing projects. Merrill Lynch had also picked up stake in BPTP's IT Park in Gurgaon for Rs 112 crore.
Foreign Real Estate Fund Splash In India
There are a host of private equity funds investing in the Indian real estate sector. CLSA Capital Partners, the private equity arm of French bank Credit Agricole, has plans to invest in Indian real estate market. Tishman Speyer is also raising a $1 billion realty fund. Then there is also Donald Trump Jr who plans to invest $1 billion in Indian real estate. Walton Street Capital and IndusInd Bank are also planning $1 billion real estate funds. Deutsche Bank also has a significant presence in the country's real estate through RREEF Alternative Investment Advisors. RREEF Alternative Investments consists of three businesses: Real Estate, Infrastructure and Private Equity.