Around the time India was celebrating its Independence Day, an American scientist and entrepreneur of Indian origin was celebrating a victory of another kind.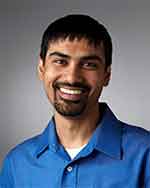 Shwetak Patel made the headlines earlier this week after his startup Senosis Health was acquired by tech giant Google. The startup's app uses smartphones to collect health data and perform many health diagnostics such tracking haemoglobin count and more.
Patel founded Senosis with four of his colleagues from the University of Washington.
Email queries sent to Patel seeking comment went unanswered at the time of filing this report.
The Alabama-born scientist is not a novice to starting up. While still a graduate at the Georgia Institute of Technology, he established an energy monitoring company called Zensi, Inc. The firm was acquired by American consumer electronics company Belkin, Inc in 2010. This propelled Patel to fame and in 2011, he was awarded the MacArthur Fellowship, where he received a grant of $500,000.
His other venture is a consumer product called WallyHome, which was acquired by US retailer Sears in 2015. The startup develops sensors to detect water leaks and changes in moisture, temperature, and humidity.
As a scientist, Patel heads a research group, Ubicomp Lab at the University of Washington. He is the Washington Research Foundation Entrepreneurship Endowed Professor in computer science and engineering and electrical engineering at the university. His specialty lies in human-computer interaction, ubiquitous computing, sensor-enabled embedded systems, and user interface software and technology, information on the university website shows.
Patel is also a member of the World Economic Forum's Global Shapers Community.
Google made its first Indian acquisition last month when it acqui-hired Bangalore-based artificial intelligence venture Halli Labs.