Global search giant Google, owned by Alphabet Inc, has acqui-hired Bangalore-based artificial intelligence (AI) venture Halli Labs, the startup said on Wednesday.
Halli Labs announced, both on its website and blog site Medium, that "its team was joining Google." It didn't divulge further details. Neither did it disclose the deal value.
According to another Medium blog dated May 22, the stealth mode startup was into machine-learning solutions.
A Google spokesperson confirmed the development to VCCircle: "We are excited that the Halli Labs team is joining Google. They will be joining our team that is focused on building products that are designed for the next billion users coming online, particularly in India."
Pankaj Gupta, who is founder and chief executive of Halli Labs, was previously chief product officer and chief technology officer at the now-defunct homestay startup Stayzilla. Gupta's LinkedIn profile shows he launched Halli Labs in April this year.
Gupta is an alumnus of Indian Institute of Technology Delhi, and a PhD in computer science from Stanford University. He was not available for comment at the time of publishing this report.
Caesar Sengupta, vice president of product management at Google, also confirmed the deal in a tweet.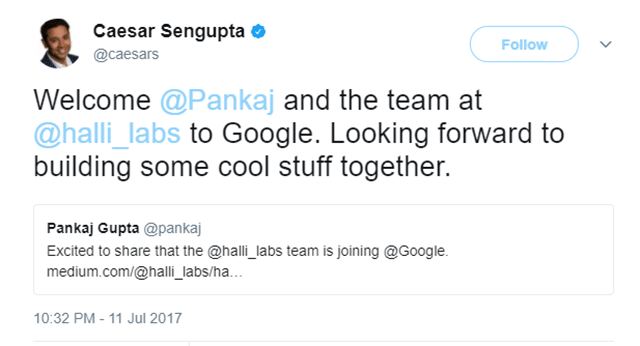 Anup Jain, managing partner at consumer and retail consultancy Redback Advisory, said: "As a technology company, be it software or hardware, the biggest risk for you is of obsolescence. For these tech giants, it is part of their DNA to develop innovation in-house or to keep an eye on spotting talent (outside.)"
In early 2014, US-based social networking giant Facebook had bought Bangalore-based startup Little Eye Labs.