The grand finale of YES Datathon on 23rd December 2018 was a celebration of data science. After a rigorous 100-day journey, Top 20 teams who made it to the finale were announced in the presence of more than 200 Data Experts, Student Teams, Media and more. Team Oracle won the Datathon 2018 challenge with their 'master product' that creates a single 360-degree view of every retail customer and also provides customised product and service recommendations for every individual customer – (including product propensity/predictive service delivery/service resolution etc. Professionals from IBM were part of the winning team called Oracle.
Shortage of Data Science and Analytics (DSA) talent has been identified as a pressing issue of the future. As a forward-thinking organisation, YES BANK took the bold initiative to bring together the right talent for solving the banking industry's challenges. Through YES Datathon, YES BANK launched India's first bank-led data science hackathon in September 2018. Data scientists, from students to seasoned professionals, grabbed the opportunity to work with YES BANK's data stacks.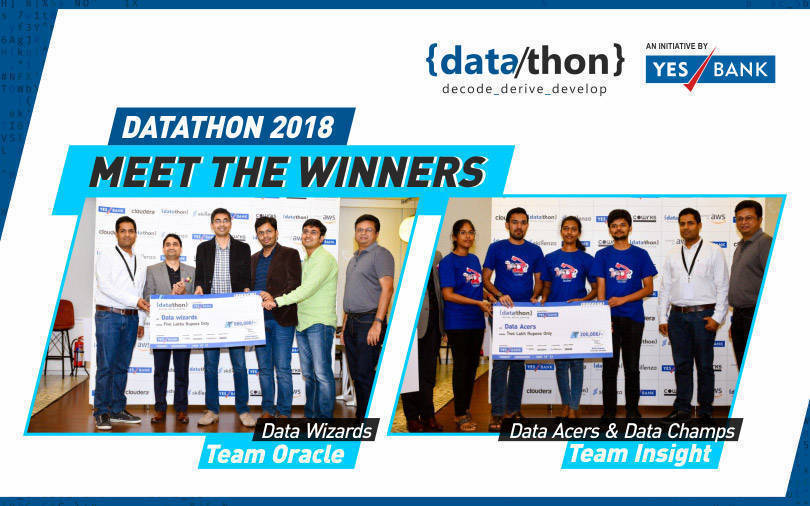 Round the clock for data science innovation 
Although Datathon participants were working in a competitive setting, their passion for shaping data into innovative concepts was evident in the endless hours they spent on the challenges round the clock. These enthusiastic data science teams worked non-stop during the 24-hour challenge rounds. Constant brainstorming and communication with mentors took place after work or class hours for these participants. Industry experts helped tweak their ideas and turn them into working prototypes. 
It all began with YES BANK's decision to reach out to the global developer, coder and data science community for data science innovations in the bank. Through Datathon, the aim was to augment YES BANK's embedded data analytics & ML units to drive rapid prototyping of AI/ML-based products, optimise digital product suite, and enhance product/service design and delivery, in an accelerated 100-day period. The shortlisted candidates received the opportunity to use YES BANK's data that was curated, tokenised and anonymized by its experts. Top 50 teams were handpicked from over 6000+ participants from across the world to create working prototypes on banking use cases. The top 200 teams include not only students from top technology institutes like IIT Bombay, Chennai, Kharagpur and ISI Kolkata but also 150+ professionals from organisations like IBM, Walmart Labs, Siemens, Amazon Development Centre, Capillary Technology, TCS, Accenture, Amdocs and Infosys among others, who are taking on the challenge beyond their professional duties.
Creativity meets innovation at YES Datathon
From sending useful reminders to customers to helping them to understand their account statements in a better way, innovative ideas were at work to build greater digital experiences at YES BANK's Datathon events. Most of the participants of Datathon are consumers of banking, either of YES BANK or of other banks. New ideas emerged when the participants utilised the opportunity to come up with their own problem statements based on their view of how data would help them as consumers. "One thing that is common is the pure passion that young India now has for innovation, for ideation, for coming up with an idea based upon data as a product. 50% of the Datathon participants have either come up with completely new problem statements or taken up the existing problem statements, modified it and come up with fresh problem statements," says Rajat Kanwar Gupta, President, Business & Digital Technology, YES BANK. 
Priceless rewarding experiences 
90% of YES Datathon's Top 50 teams are working professionals in the field of data science. Even the data professionals from a non-financial services background participated in the challenge beyond their work hours. As per the participating team from Amazon Development Centre, "Financial services industry is fairly unique in terms of use cases and problem statements that data analytics professionals face. For us, Datathon is a first of its kind opportunity where we are working almost as an extension of the bank's data analytics team, creating live data models on practical use cases and data stacks."  
The biggest reward for the participants was the fun and the satisfaction of cracking codes. Sitting late nights after work to solve the challenge problems came out of a real passion for data science and analytics. For students across top tech institutes, Datathon provides a rare opportunity to build algorithms and data models on terabytes of 'anonymized curated data' in a deployment-ready environment. The cloud environment provided by YES BANK, through its partners Amazon Web Services and Cloudera, mimics its own data engineering environment.
One enthusiastic participant quoted, "The entire concept of AI/ML is to work iteratively and the challenge of the huge datasets, and seeing our models develop into products was a major driving force for us. We are working on 2 models, one of which uses an algorithm approach we are experimenting with for the first time, and if we can successfully build a product around it, would be great for our learning."
YES BANK created a 25+ mentor pool to support the data science teams as well as help the bank identify and share use cases for product development using Big Data Analytics, ML and AI. In order to provide maximum support from their end, the bank hosted a few roundtables and fireside chats with top industry leaders and data experts for the Datathon teams. The team of mentors included Subramaniam Ramakrishnan (Ramky), Data Analyst, Indian Cricket Team; Mathangi Sri, Phone Pe; Saurav Gandhi, PayU; Anurag Agarwal, GE Aviation and more. 
Display and discussion of innovative ideas at the Grand Finale
At the Datathon Finale event, celebrated data scientists shared their experiences. Subramaniam Ramakrishnan, Former Data Analyst of the Indian Cricket Team recounted the time when data science helped win the World Cup for India in 2011. The finale also had a data science roundtable with data scientists from diverse sectors sharing their views on how analytics is shaping user experience. From GE Aviation processing terabytes of data per second to Uber building a business model on data analytics – the roundtable had it all.
Team Oracle won the 'Data Wizards' award with a cash reward of Rs. 5 lakhs. Each 'Data Acers' award winning team received a cash reward of Rs. 2 lakhs. Team Team Insight won the 'Data Acers & Data Champs' award. Team Insight, the team from the University of Moratuwa, Sri Lanka, developed a unique model basis, using a modified version of Shapley's value – called Shap Value to create a customer-product/service propensity model basis product holdings/demographics/transactions. 'Data Pros' awards were also given to teams with a cash reward of Rs. 1 lakh each. Other than the winning ideas of Oracle and Team Insight, the Datathon product showcase featured ideas by teams Finance Data Cons, Django Unchained, Reverse Atlas, NLP Rockets, Zessta, Avensis, Meson Labs, Prayaas, Data Pirates, GSA07, Fakedata and Greenity. 
Some Products from the Datathon Showcase 
Finance Data Dons (Professionals from TCS, Chennai) has created 2 products
The first product created by this team is a data model which creates a personal finance management tool for every customer using transaction patterns as a base. The second product is a data model that will help optimise online as well as offline merchant relationships by using ML to cluster POS transactions and identify anomalies in transaction volume and volume. This will help to increase POS/gateways, identify new merchants and provide merchant offers.
Django Unchained (Professionals from Vodafone & PwC)    
AI-based application for relationship managers (sales representatives) of the bank enabling them to measure share of wallet for the bank for every retail customer, predict attraction as well as provide customised products/services.
Reverse Atlas     (Students from VIT, Vellore)
A unique ML algorithm to identify customer relationships on the basis of transactions. This would help identify and target new customers with exact products/solutions/offers as well as deepen current relationships.
Uses NLP and clustering methods to convert email service requests into service tags across the entire customer bases and subsequent clustering and prioritisation. The model then uses predictive analytics to create customer clusters and predict service requests per cluster.
Avensis (Team of students and professionals)
Helps YES BOT provide more customised responses to customers/non-customers using demographic and account data, while also providing regular services like payment reminders/EMI tracker and relevant investment notification.
Prayaas  (3 Students from NMIMS, Mumbai one from ISI, Kolkata)
The team has worked on 2 solutions. One of the solutions helps manage and predict individual customer deliveries like cards/statements/tax statements/cheque books - providing proactive service, reducing human involvement and as a result reducing service requests.
GSA07    (Professionals from Direct I and Nearby Technologies)
A solution that helps the bank to anticipate a customer's concern based on demographics and transaction data. Additionally, it allows the bank to reach to their customers with a solution before the customer knocks at their door with a problem. 
Fakedata (students and professionals mixed team)
The model uses machine learning to create a customer satisfaction or 'happiness index', and basis affinity of customers to products or brands (basis transactions) - provides customised offers/offering as well as enables more nuanced and targeted marketing.
Building a stronger community and talent pool for the future
Post the grand success of Datathon, it is clear that talent can be harnessed if a right platform is made available. To strengthen the initiative that is already set in motion, YES BANK will be hiring and training the budding talent. The ultimate goal is to build a robust team of 100+ data scientists, developers and coders who will work on future tech and innovative ideas for in-house product development through the YES TECHTONIC initiative. A first of its kind ecosystem for leaders and learners called YES DATA Community is also on the cards to encourage data science conversations, crowdsourcing and knowledge sharing.
Additionally, Datathon is actively partnering with top technology institutes. YES Datathon has already partnered with top IITs and BITS Pilani, and will also host AI/ML challenges and data engineering workshops to deepen practical and technical know-how of future technology leaders and widen the data science ecosystem. 6 Machine Learning challenges hosted in partnership with IITs/BITS will lead up to YES Datathon 2019 to be hosted in June 2019.
To learn more about YES BANK Datathon, click here.
Brand Solutions is a marketing initiative for sponsored posts. No VCCircle journalist was involved in the creation of this content.