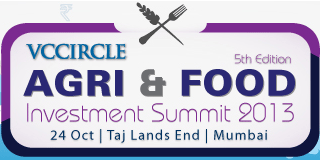 VCCircle is back with the 5th edition of VCCircle Agri & Food Investment Summit 2013 which will be held on October 24 in Mumbai.
The summit will cover the changing trends, opportunities and future outlook for the Indian food & agri businesses and its key sub-sectors. Panellists will discuss how technology integration could take farm & food businesses to the next level and how to deal with ever-rising food inflation. Discussions will also focus on the consequences faced by Indian food & agri businesses, innovations taking place in the agri-oriented domain, and the role played by PE investors in infusing capital into the sector.
Here is the quick look at the segments and sub-sectors that will be covered at the summit:
Seeds, Fertilisers & Irrigation: The primary need of the agriculture industry is gaining acceptability of new products with the entry of emerging fertiliser, seeds and irrigation companies using water efficient irrigation technology and evolving distribution networks despite key challenges like delays in reimbursement of subsidies, initiation of key policy reforms and volatility in input prices. Companies are striving to produce quality products, ensuring affordability, while simultaneously trying to raise agricultural productivity in the country.
Logistics Infrastructure & Supply Chain
Private entrepreneurs are seen taking active interest in creating effective logistics infrastructure & efficient supply chain, trying to bridge the demand-supply gap in agri-warehousing businesses. Many innovative companies providing services such as specialised refrigerated storage, warehousing, transportation, distribution and logistics have grown multifold; these operations are not only drawing a way to bypass the long chain of intermediaries but also creating additional value in the wider agricultural domain.
Processed & Packaged Foods, Dairy, Retail
Rapidly growing Indian food & dairy processing industry has opened up newer avenues for diversification; value addition and constant innovation clearly suggest a very promising future for the entrepreneurs. The availability of raw materials, changing lifestyles and relaxation in regulatory policies are fueling the growth in the processed foods industry which offers tremendous opportunities to attract investments.
The summit will bring together more than 150 top entrepreneurs from Indian agri & food vertical, institutional, private equity and venture capital investors, investment banks, consultants and government representatives, in addition to serving an opportunistic platform to next big Indian companies in food & agri vertical space. For more details, .
For registrations, write to kanika@vccircle.com or call 0120-4171111 
For sponsorship, write to: varun@vccircle.com or  vijay@vccircle.com. 
For suggesting agenda/nominating speakers, write to ben@vccircle.com.