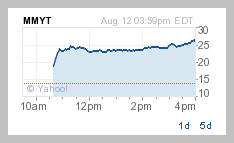 Putting all the cynicism to rest, India's largest online travel company MakeMyTrip Ltd (MMT) has made a dream debut in Nasdaq on Thursday. The company's market cap has risen to $800 million on day one as its stock price zoomed 89% to close at $26.45.
The company had priced its stock at the upper end of the band ($12-14) on Thursday, which pegged the valuation of the issue at $450 million.
Despite critics' view that the MMT stock was overvalued, there was tremendous demand for the issue, according to one of the investors of the company. He claimed that there was a demand worth $1.3 billion, about 20 times more than the value of the stock offering ($70 million at the upper end of the band). The company finally raised $80.5 million including the greenshoe option.
This also shows that the markets in the US has a higher appetite for stocks of internet companies, unlike in India where the response could have been relatively moderate. One of the reasons MMT went to the Nasdaq for an IPO was it was easier to convince the investors there rather than in India.
Of the $70-million offering, about $54 million was raised through the fresh issue, while the rest was secondary sale by investors SAIF Partners, Helion Ventures and Sierra Ventures besides certain management executives including founder Deep Kalra who are making a part exit.
Post issue, SAIF Partners' 51.2% stake has come down to 43.79%, founder Deep Kalra's holding (14.45% to 11.62%), Helion (11.97% to 10.2%) and Sierra Ventures (7.98% to 6.81%).
SAIF Partners' investment in MMT (about $20 million) has risen to about $400 million in value now.
After meeting all issue expenses and other outgo, MakeMyTrip is expected to net around $44.3 million that it plans to use to expand operations by acquiring or investing in strategic businesses or assets that complement its service and product offerings, to enhance its technology, as well as for working capital and other general corporate purposes, as per its regulatory filing earlier.
The Gurgaon-based firm, which began its services targeting overseas based Indians booking tickets for home, has over the last five years become one of the top local players as Indian e-commerce business picked up along with spread of internet services in the country.
For the quarter ended June'10, its revenues increased 49% to $33.7 million over the year ago period. Sales from air ticketing business rose 27.8% to $10 million primarily due to a 63.6% growth in gross bookings to $146.5 million in the quarter which was partially offset by a reduction in net revenue margins from 7.9% in the quarter ended June 30, 2009 to 6.8%. The reduction in air ticketing net revenue margins was due to reduction in service fees charged on domestic air ticketing business to attract more customers.
Meanwhile, revenues from hotels and packages business increased 59.5% to $23.2 million in the quarter ended June primarily due to 74.8% increase in our hotels and packages gross bookings to $28.2 million in the quarter. This business also saw reduction in net revenue margins from 13.6% in the quarter ended June 30, 2009 to 11.9% in the quarter ended June 30, 2010.
Reduction in net margins in the two key businesses indicate increased pressure in the market that has now half a dozen online travel services firms, some of them also backed by other venture capital investors. The key to its earnings in the future would be how closely it is able to control cost while leveraging its dominant position in the market to grow its topline.