In an attempt to revive the beleaguered Indian steel industry, the steel ministry has tasked consultancy firm KPMG India and investment bank SBI Capital Markets Ltd to assist in working out a bailout package.
This comes at a time when domestic steel manufacturers are reeling under the impact of cheap steel imports from China and struggling to service their debt. According to Reserve Bank of India (RBI) data, there are around Rs4 trillion worth of gross non-performing assets (NPAs) on the loan books of Indian banks.
According to two government officials aware of the proposed bailout package in the works, at a 15 March meeting the steel ministry discussed several issues to aid the stressed steel sector and prevent loans granted to steel companies from turning into NPAs. Both officials requested anonymity.
This was followed by steel ministry officials meeting investors from Hong Kong and Singapore on 18 March to discuss investment opportunities in steel companies. VCCircle couldn't ascertain the names of these overseas investor firms.
"The task has now been assigned to KPMG and SBI Caps who will submit their report, suggesting a suitable financial package for the sector," said one of the officials.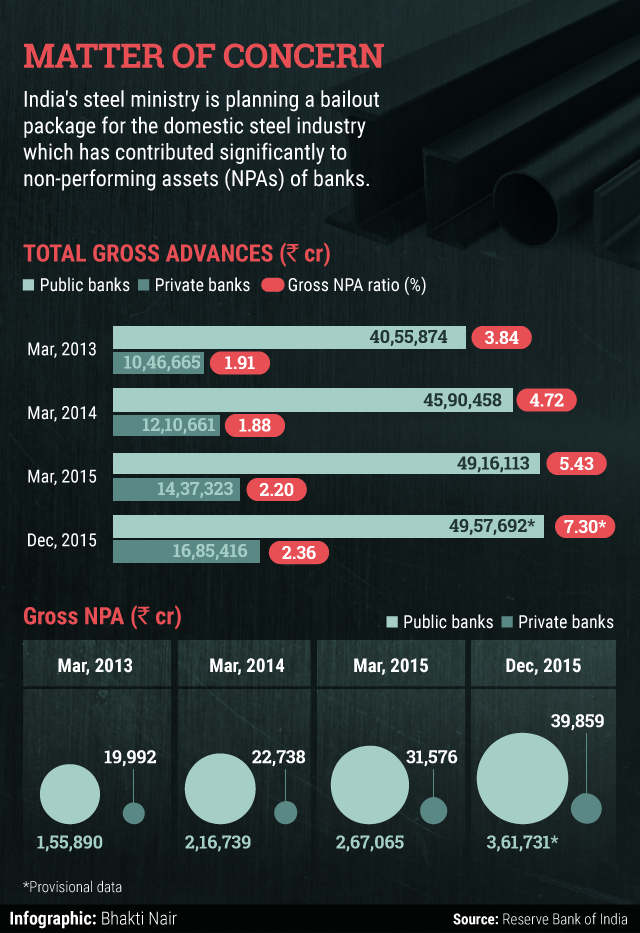 RBI's bi-annual financial stability report released in December 2015 noted that mining, iron and steel, textiles, infrastructure and aviation, which together constituted 24.2% of the total advances of scheduled commercial banks as of June 2015, contributed 53% of the total stressed advances. The report also highlighted that a macro stress test for sectoral credit risk showed that iron and steel industry's gross NPA ratio may increase from 8.4% in September 2015 to 11.5% by March 2017.
Some options discussed in the 15 March meeting included corporate debt restructuring and strategic debt restructuring plans for steel companies, continuance of minimum import price (MIP) on steel which was imposed on 5 February and high freight rates, according to the two officials quoted above.
MIP helps in setting a floor price, which in turn does not allow steel imports below this price.
While queries emailed to a steel ministry spokesperson on 21 March remained unanswered, spokespersons for SBI Caps and KPMG declined to comment.
Steel secretary Aruna Sundararajan on 21 March had said that the steel and finance ministries are working on a package for the steel sector that will be finalized in the next two months.
"A number of options are being considered, including bringing in international investors to invest in domestic steel companies," she said at a CNBC TV18-Mint event.
The National Democratic Alliance government has taken several protective measures against import of cheap steel products. These include imposing a provisional safeguard duty of 20% on hot-rolled flat products on 14 September 2015 for a period of 200 days. With the duty expiring on 31 March 2016, an investigation on 15 March found that a threat exists with the need for further protection to the domestic steel industry. The government has now extended the safeguard duty for two-and-a-half years starting 14 September.
The government also imposed a minimum import price on 173 types of steel products ranging from $341-752 per tonne on 5 February 2016 for a period of six months. To counter subsidies provided to Chinese stainless steel manufacturers by its government, India is also investigating whether to levy a countervailing duty on the product's import from China to protect Indian manufacturers, VCCircle reported on 14 March.
China has improved its steel production capacity and registered a production of 803.8 million tonnes (MT) for financial year 2014-15. India's consumption of finished steel was 77 million tonnes (MT) for financial year 2014-15. Of this, imports accounted for 9.32 MT, a jump of 71% over the previous fiscal. Import of finished steel has further gone up to 10.216 MT till February this financial year compared with 9.32 MT in FY2014-15.
Experts believe that the bailout package will help the ailing steel industry.
"Indian steel industry is facing a huge domestic overcapacity, and global headwinds with Chinese slowdown and weaker currencies in many emerging economies. Government initiated capex in infrastructure sector and duty on imports are expected to support the domestic industry, but the recovery is certainly few quarters away and the industry would need some dispensation with respect to their debt servicing," said Debasish Mishra, partner, consulting at Deloitte Touche Tohmatsu India Llp.
Interestingly, India's Economic Survey 2016 presented on 26 February 2016 stated that any future safeguards for the steel industry may not be in the best interest of the downstream industries.